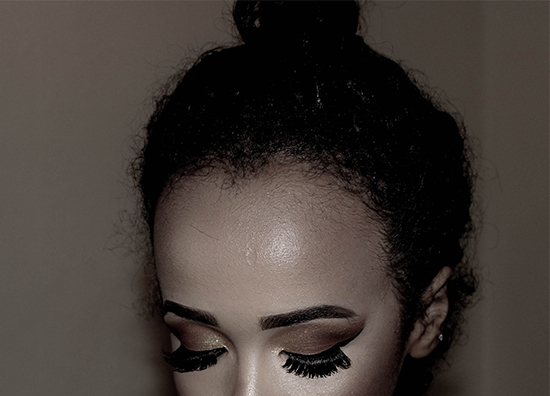 FEBRUARY 19 – MARCH 1, 2018
Christensen Center Student Art Gallery
Artist Talk: Thursday, March 1, 5:30 – 7 p.m. Christensen Center Student Art Gallery
Beyond The Eyes is a series of photographs documenting three uniquely different African-American women. Inspired by the strong women that surrounded her as she grew up and the cultural intersection of Somali-American, the artist explores the identities that we create and their perspectives on the world around them.
Bio
Hani Mire is a digital illustrator and photographer based in Minneapolis inspired her projects that focus on community. She is currently working on her Beyond the Eyes senior show. She is anticipating her BA in Studio Art from Augsburg University.
Statement
My inspiration comes from my own personal background,especially growing up around strong women and as well as being young a Somali-American who grew up at the intersection of two different cultural viewpoints. Growing up with polar opposite cultures, I'm always finding a way to balance these two different worlds. My identity is an important role that shaped me into who I am as a person today.
Throughout my work, I focus on documenting three uniquely African-American women. I go along on their journey, and I explore my subjects through the lens of a Somali-American woman with a series of portraits and smaller images of each person's viewpoint. My first subject sees her surroundings, including possessions, to be the most important to her. She brings a glimmer of her artistic upbringing everywhere she calls home. She sees the world through a creative mindset which has always led her to be aware of the world. My second subject uses her makeup sets of foundations and brushes to bring joy into her life. She is motivated to find new ways to be creative but also keep her natural features intact. My third subject finds her faith to be the most important thing in her life. She balances a world of influence with always keeping in mind where she wants to head in life. These three individuals demonstrate not only identity but a statement of being.
I am motivated to continue capturing individuals with complex backgrounds within overlooked communities. I want to show the world not only what they are dealing with in cultures very different from their own but that they are mixing the best of both worlds to make an identity of their own. Each individual uses what they find important to shape their own reality to depict their own understanding of their identity. I've followed my three subjects on their journey of finding their own identity, and my goal for this project was to discover how our identity plays a role in our perspective of the world.
---
images from exhibit