The following is a profile & reflection of Olivia Boerschinger, Augsburg College Alumni, Metro Urban Studies major, who completed a "Study Away in the USA" program with Augsburg's partner organization, HECUA.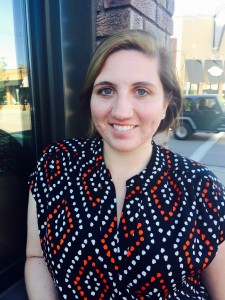 Olivia interned with Catholic Charities Refugee Services while participating on HECUA's program "Inequality in America" during the spring semester of 2013.
She now works for Project for Pride in Living running programs for children transitioning from homelessness to a PPL supportive housing development in North Minneapolis. Olivia is currently supervising a HECUA intern enrolled in the Inequality in America program.
Olivia transferred from the University of Wisconsin–Lacrosse to Augsburg to do the Metro Urban Studies major, intending to complete her fieldwork and internship with HECUA. What she discovered participating in the Inequality in America program was that the classroom support was as transformative as the hands-on experience she received working with her internship.
"We talked about emotional and deep issues, but the learning community created an environment to feel things out and work through them. I had learned about whiteness in an academic setting but was never asked to look at my own role related to white privilege. Hearing others students' stories made me realize I do have a story to tell. I saw how all the pieces of people's stories are connected. For my internship, I worked with Catholic Charities Refugee Services. I was meeting people at the airport and working with individuals during their first 90 days of arriving to the country. I thought I was aware, but this experience opened my eyes to the realities of the everyday difficulties of people we pass on the streets. Simple things we take for granted, like going to the grocery store on your own for the first time, navigating transportation…  one woman's child got locked in the bathroom because she didn't know how to work the locks."
The HECUA program showed Olivia how she fit into the big picture, and how to meet people where they are, with compassion. After HECUA, she continued to seek out internships and course-work at the intersections where housing policy and the everyday lives of people meet. Her senior project at Augsburg explored the transformation of housing policy in the U.S., assessing its failures and successes. Through various other internships after HECUA, she continued to witness how housing reforms like mixed income developments, supportive housing programs, and holistic approaches to supporting families really work in action.
Olivia was recently hired as the youth program and service coordinator in Prosperity Village for Project for Pride in living where she supervises HECUA interns.
"HECUA does a good job helping students navigate and practice having the difficult conversations about race, power, and privilege. Half the battle for me was to understand how my role and personal history connects to the issues of inequality and social justice. Being able to bring your whole self to the work environment is essential."