This is a guest post from Mary Witt Scholarship Recipient, Amanda Friesel, who traveled on a customized trip to Nicaragua with a group of social work students from Ohio State University in May, 2017. Thank you for sharing your story with us, Amanda!
Hola! First and foremost, I want to thank everyone that works for the Center for Global Education and Experience, especially César, Ruth, and Hector (our driver)! Everyone was so welcoming and helpful during our time in Central America. Traveling to Nicaragua for a two-week study abroad trip was a life changing and extremely educational experience! This is something that will stay with me forever! From the time that I stepped off the plane until the time I arrived back at the Managua airport my experience was a whirlwind.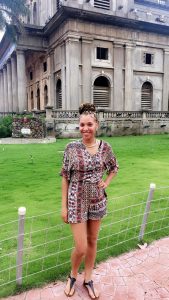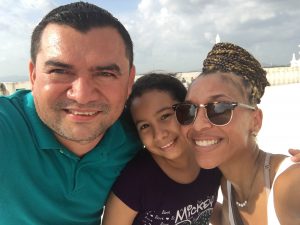 During our first few days in Nicaragua we met with Joseph Connelly from CGEE and visited NicaHOPE. Joseph gave us a history lesson on Nicaragua. This first session really piqued my interest. We learned a great deal about the relationship between Nicaragua and the US as well as the corruption and manipulation that the US forced upon the Nicaraguan culture. In addition to that, we learned about the division of the country. The eastern side of Nicaragua is very rural and distant from the western side of Nicaragua. Joseph explained that the two sides of the country are like their own country as they operate separately even though they are under the same government. The eastern side is more autonomous and take justice into their own hands. We also learned about FSLN and the Contra War that former President Ronald Reagan put forth during his time in office in the 1980s. At NicaHOPE we learned that this organization works with kids from the previous local trash dump community. Though the community has a recycling plant now instead of a trash dump, the children are still being helped. The organization was created to teach the kids other ways to make money so they don't have to leave school to work at the trash dump. They make homemade jewelry to sell. We also had a chance to tour the facilities and buy some of the jewelry that was handmade.
During the next few days we spent time in León, Nicaragua. This is also the time that we had our homestays. Lauren (another student) and I stayed with Professor Juan and Professor Ruth who are both social work professors at UNAN – León. When Professor Juan welcomed us into their home, he also told us that we are now a part of their family. He told us we could call him Papa Juan, Professor Ruth – Mama Ruth and Naza, Maria and Natalie our sisters. We ate breakfast, lunch and dinner with our host families, exchanged English and Spanish teaching lessons and even watched TV with them. Also, while in León we had the pleasure of meeting with some of the social work students in León and get insight into how social work differs in Nicaragua compared to that in the United States. While in León we also visited La Casona and CIDS.
Once back in Managua we had the pleasure of hearing from Julio Mena, the director of ANiCP+ViDA. This organization works on the prevention and education of HIV and AIDS. Julio told us about his life story. He was affected with HIV during the Contra War because he was wounded and another soldier gave him some of his own blood to help him survive. He didn't know he had HIV so he ended up infecting his daughter, who eventually passed away at 6 years old, and his girlfriend. He experienced years and years of guilt, shame, isolation, discrimination, etc. because of this. Even though it was not his fault that he was infected and did not know he was infected until a year later, Julio was still shamed and stigmatized. Because of what he experienced, he decided to work in the outreach and education field in regard to HIV and AIDS. We also spoke with a former Sandinista guerrilla from the Contra War (The war Ronald Reagan waged on Nicaragua), Maria Teresa Blandón. Not only did she speak of her time being a part of the revolution at the age of only 17 years old, but she also spoke of feminism. She compared and differed it in the US and Nicaragua. She also touched on marriage and why she doesn't believe in it. She touched on some good points, such as religion, which is necessary in society, but there need to be limits to it. Religion calls for absolute power, and if we give that then we are all doomed. When she talked about the Contra War and the revolution she was involved in, she mentioned that the cost they paid was too high. Too many young people lost their lives in the war, and in the end, it was for nothing. It made me sad and mad all at the same time. Hearing her story and listening to her words, certainly inspired me to be a part of such huge change when I return to the States.
While also in Managua we visited Casa Alianza which is residential center for young people who are victims of human trafficking, rape, sexual abuse, abuse in general, domestic violence, etc., and for teen mothers. With human trafficking being my background and the career area I want to go into in regard to social work, I was so excited once we arrived. I had so many questions for the employees once they were finished telling us about the organization. One thing that caught my attention is that she said even if they help the people legally prosecute their perpetrator, it doesn't always mean they will be held accountable, as the government does not want their crime numbers to increase so it is certainly a challenge to try to prosecute the criminals. This visit was truly my favorite one!
Our next location that we traveled to was Granada, Masaya and Matagalpa. We first went to Masaya Volcano Park and got to see a real live active volcano which was spontaneous and exciting! Then, in Granada we spent the day at Lagoon Apoyo and visited Café Sonrisas. The owner of the café specifically works with people with disabilities. They make homemade hammocks and serve great food! We experienced what it is like to be a part of their "world". We were given ear plugs to put in our ears and eat part of our lunch with them in. The point of it was so that we could try to get a glimpse into what their lives are like with no hearing. This activity certainly touched me. In San Juan Oriente, Masaya, Nicaragua we visited a potter and indigenous leader, Valetín Lopez. He explained that San Juan Oriente, Masaya is an indigenous town and basically everyone does pottery work. He showed us the process on how to make the pottery and gave us an insight to their past culture and present one too. The process that they currently use to make pottery, is the same process their ancestors used except for a kick wheel that decreases the process from 2 hours to 5 mins to shape the pot. In Matagalpa, we spent basically the entire day on Monday at the co-op. We learned how to make homemade tortillas, how to use natural plants for medicine and preventative care, and even made cough syrup. We watched their native dancing and listened to their culture's songs. We met with the children of the school and really learned the ins and outs of the co-op and community. Unfortunately, I was not able to see the actual coffee trees due to my allergen of bees. Once we finished at the co-op I experienced my first ever tasting of a hot chocolate coffee which tasted amazing considering I dislike coffee. The coffee grown and then used in the cafe, was from the co-op and surrounding community.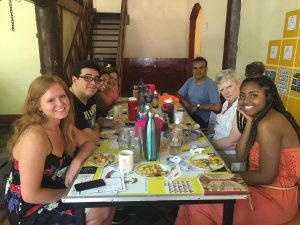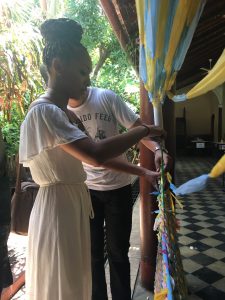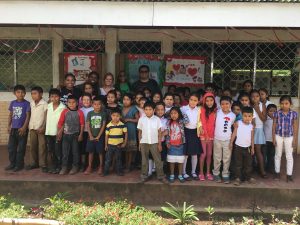 One thing that was common in the organizations we visited is that they have NEVER received government funding from the current administration which has been in power for about the last 15 years. This saddened me, but surprised me at the same time. ALL the organizations and institutions we visited were doing amazing work and for them to not have any government funding is mind boggling to me. Not only did that impress me, but it also motivated me to learn how they do it, and take that information back to the non-profits I work with and implement that. There is something amazing about the fight and drive that people in "3rd world" countries have. This is certainly something that all "1st world" countries can learn from.
During my time in Nicaragua not only did we engage with the Nicaraguan people and their culture, but we also got to understand how even through corruption and economic hardship, they stand tall and fight the social injustices that affect their society and community daily. I'm filled with gratitude for being able to experience such an amazing culture, and motivation to take back what I learned from the NGOs and institutions we visited to the United States and be the change I want to see in the world. I am filled with hurt and disgust at what the United States was involved in which affected the Nicaraguan people gravely. It is hard to go to a "3rd world" country to learn from the people and their history, when the people have nothing, but negative things to say about the horrific history the two countries share. Even with the negative history that the US shares with Nicaragua, the people welcomed us with open arms. They were delighted to discuss their history and the current issues that they face. We shared ideas, viewpoints, hugs, pictures, and history. Through these things, we could learn from one another on the same ground level and that was an amazing experience. I am more humble and appreciative of the freedoms we have in the US since returning home.
Once again, I want to say thank you so much from everyone at Augsburg College and the Center for Global Experience and Education for providing me the opportunity to experience Nicaragua and the Nicaraguan culture. I am a different, but better person because it and I cannot put into words how grateful and humbled I am for this experience.