Last week the First Lady of the United States of America visited Namibia. Two students, Taylor Gwynne from Oberlin College, and Ella Fontaine from Clark University, had the honor to personally meet Dr Jill Biden, while studying abroad on the Augsburg CGEE Program: Decolonizing the Mind: Racial and Environmental Justice.
Dr Jill Biden and the United States Embassy in Namibia hosted a life changing event on Youth Empowerment and Democracy in Namibia. Such powerful women including Namibia's own First Lady, honorable Monica Geingos. The event was hosted by our students' internship organization, Namibia Institute for Democracy (NID) and Dr Biden paid a visit to one of our students internship organization, Hope Initiatives of Southern Africa (HISA).
Ella Fontaine has graciously agreed to share her reflections after the visit and listening to Dr. Biden's speech. Thank you, Ella, for your thoughtful reflections and words! Read below for more (photos courtesy of our Resident Assistant in Namibia, Wilikka Absalom):
As I sat only meters away listening to Dr. Jill Biden's promise that America supports the youth of Namibia, I still had the words of Deputy Junior Mayor of Windhoek, Fenn Paulus, ringing in my ears. Fenn, whose top knot bun was the only thing visible above the podium, boomed "Youth empowerment is not a threat to democracy, it is a threat to poverty, barriers, and corruption."
In the Windhoek city government, 4 advisory positions are reserved for 'juniors' to ensure that youth have a voice in policy that directly affects their future. This is a result of Namibia's commitment to representation in government. The current elected junior counsel is dedicated to mental health awareness, HIV prevention, and clean-up projects which are important topics to the youth of Namibia.
So why was Jill Biden involved? To create a platform for youth to "engage and plan for our future," as a spokesperson from the student representative council of the international school of management said to his fellow youth. Not only did the youth engage with this platform, they claimed it as their own, having an impromptu dance battle that lifted spirits, and made me forget that the first lady was even in attendance.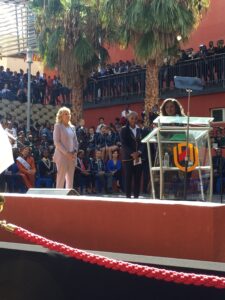 After a morning of beautiful spoken word poetry, powerful speeches like that of Miss Namibia, and moving dance routines to acknowledge gender-based violence, both the first lady of Namibia and the US took the stage. What felt like average levels of security guided them, but I later found out that even the president of Namibia goes to church with only one bodyguard – so a team of 30 escorting the first lady was anything but normal. 
In her introductory speech for Dr. Biden, First Lady of Namibia, Madam Monica Geingos acknowledged the information gap and assumptions people have about Namibia when she visits the states. She also empowered young girls by saying "When young girls come to me and say 'oh I want to be a first lady, I want to be just like you' I say 'NO, you must want to be a president!" Her speech was the perfect balance between speaking relevantly about youth and women empowerment, while also recognizing the complexities of US-Namibia relations. Dr. Biden's speech on the other hand was far from that.
Dr. Biden began her speech by addressing apartheid, acknowledging the importance of African voices at world tables, and telling youth to harness the power of their potential. However, she also spent a while explaining the positive relationship between the US and Namibia and the respect her husband has for this country. As a reminder, this event was supposed to be about youth empowerment in Namibia, so the consistent mention of America and political relations missed the mark completely. With these words, she implied that the relationship between America and Namibia is equitable when in reality, the US aid money here has the influence to achieve any political goal while hiding behind the face of 'helping.'
The United States Embassy in Namibia also has a large hand in this neo-colonialism. The embassy alleges to "enhance the lives of Namibians through the framework of our bilateral relationship." However, claiming the work that multiple local NGOs did to set up this event as your own and not giving credit seems to directly counteract that statement, which I noticed to be a trend. The US Embassy of Namibia also refused to feed the youth at this event, even though they were asked to skip their school lunch; the actions here speak louder than words. 
So while I was disappointed by the US Embassy of Namibia and Dr. Biden's speech, I was proud to be sitting amongst the leaders of today but more importantly, the leaders of tomorrow. One of my friends, Matjituavi Jezunda Kao Katjatenja said "They really did inspire me to be out there, making a difference" as a direct result of powerful youth speakers at the event. I learned from the young people of Namibia about what it means to be an activist, a leader, and how to care about each and every member of the community, a value I do not think is shared in The States.