Eligibility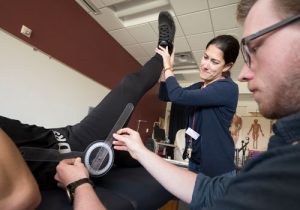 A student must have a cumulative GPA of 3.0 and a GPA of 3.75 within the major to qualify for departmental honors.  Eligibility will be verified by the department chair. Attach a copy of current transcripts.
Requirements
The student will submit a brief statement of goals and an outline of the project on the proposal form to the HPE department chair by March 1st of the junior year.  The student will then present the proposal to the department by March 15.  If necessary, the resubmission deadline is April 15.
The student will choose a topic of interest that focuses on a specific area in the health, physical education, and/or exercise science.  The depth of insight, thoroughness of research or creativity will distinguish the project. The project will build on prior knowledge and showcase use of high level writing, critical thinking, and/or quantitative reasoning.  The student may choose to complete a project with a research question and hypothesis, a research paper, or develop a creative project or curriculum. The project must include a written and oral component.
Evaluation
Evaluation of the project will look at quality, creativity, and contribution to the field.
Timeline
February of junior year: Select mentor from HPE department
March 1 of junior year: Proposal due to HPE department chair
March 15 of junior year: Presentation of proposal the HPE department
April 15 of junior year: Resubmit proposal if necessary
February 15 of senior year: Present project to HPE department
March 15 of senior year: Present project to intended audience if appropriate
Graduation with Latin Honors
See the Latin Honors web page.