Hmong Women Together is a commissioned student organization at Augsburg University that has been operating since 2013.
Mission Statement
:
It is the purpose of Hmong Women Together to create and sustain a supportive environment to connect, empower, and educate Hmong women and their allies to discover and explore different aspects of their cultural identities.
---
Meet the board members! [2023 – 2024]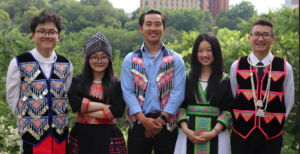 Tou Vang – Chair of Membership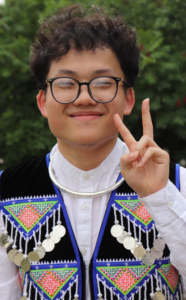 Pronouns: He/Him/His
Major: Business Management
Year: 2nd
I want to support Hmong women and improve the Hmong culture as a whole.
Hobbies: I like to hangout with friends, laugh, dance, and listen to music.
Ka De Xiong – Chair of Marketing
Pronouns: She/Her/Hers
Major: Business Management
Year: 2nd
I'm a second-year student majoring in marketing with a sociology minor. I am the Chair of Marketing for Hmong Women Together this year. I cannot wait to plan events alongside my board members, especially our annual Hmong New Year event.
Hobbies: Swimming, biking, shopping, and watching romance movies. My favorite movies are the ones that make me cry.
Moua Tia Xiong – Chair of Communication
Pronouns: He/Him/His
Major: Business Marketing
Year: 2nd
I chose to work with Hmong Women Together because I grew up with 6 sisters and watched them all grow up to have a life of their own. I notice that there are some things in the Hmong community that need to be preserved and some things that need to be worked on and talked about. As a Hmong man I want to stand alongside my Hmong Women to be a voice for the next generation.
Hobbies: Powerlifting, volleyball, running and fishing!
Shana Chang – Chair of Finance
Pronouns: She/Her/Hers
Major: Finance
Year: 2nd
I decided to become part of the Hmong Women Together board because I wanted to get involved with the Augsburg community and make a positive impact to others which includes supporting students in discovering their identities. Our organization's theme is "Our Beautiful Voice" and it emphasizes the important value our voices hold. I would like for Hmong Women Together to be a way of assist for mental health as it is such a big issue transitioning from growing youths to early adulthood in college. I also wanted to bring awareness to Hmong Culture stories and allow others to tell theirs.
Hobbies: I like playing Badminton. I also enjoy journaling.
Tommy Lee – Chair of Operations
Pronouns: He/Him/His
Major: Computer Science
Year: 2nd
I want to create a safe place for Hmong women to prosper here at Augsburg as they were the student organization that made it possible for me to stay connected with the community.
Hobbies: Gaming, Cleaning, and Cooking.
---
To learn more or get involved with Hmong Women Together, please email us at hwt.org@augsburg.edu or follow us on Facebook!