On January 16, 1895, the original 18 members of Sons of Norway gathered for their first official meeting. Today Sons of Norwa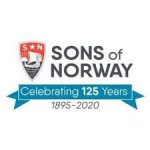 y celebrates the 125 years that have passed since that meeting. This organization has grown to become the largest Norwegian organization outside of Norway and is proud of its 50,000 members at 350 lodges across the United States, Canada and Norway.
Serving members with financial, fraternal, and philanthropic offerings is part of their ongoing mission, as well as other exciting developments the first meeting 125 years ago. Please see a list of their major milestones and goals by visiting the Sons of Norway homepage.
And help us celebrate this big milestone with Sons of Norway.