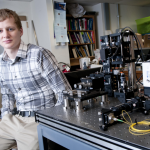 At Augsburg, we are fortunate to be able to pursue our passion for Physics in the heart of the Twin Cities. Our faculty are focused on providing students a rigorous and experimental-based education. We do this through small class sizes, nationally recognized research – primarily in the areas of Space Physics and Biophysics – and a dedication to the career aspirations of our students. We graduate approximately 5 to 10 students per academic year.
Why we are unique
Small and Urban.  A small department in the heart of the city and next to the University of Minnesota means you get the best of all worlds: one-on-one contact with your professors, access to world-class research and facilities, and excellent internship and career opportunities.
Rigorous.  We believe a successful career in Science and Engineering is based on a strong foundation of communication, analytical, and critical thinking skills.  Our curriculum is focused on building a solid base of fundamentals that prepares our graduates for today's interdisciplinary world.  Our graduates have succeeded at some of the most prestigious physics and engineering programs in the nation.
Emphasis on Research.  Nearly all of our graduates participate in summer research activities; most of these positions are funded through our faculty's research grants, while others are supported by Augsburg's various undergraduate research programs.  Our primary areas of research are Space Physics (What causes the Northern Lights?) and Biophysics (What can Physics tell us about cellular structure?).  These experiences are critical for launching our students in their own career in Science and Engineering.
Diverse.  The Augsburg Physics department is dedicated to providing high quality educational experiences for everyone. We actively encourage and support students with a diverse set of interests and backgrounds.