On June 9-10, over 40 middle school and high school youth from Lutheran congregations in Minneapolis will be at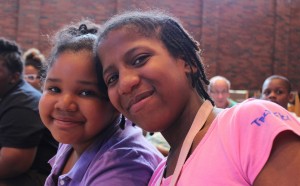 Augsburg to explore faith, community, and vocation. This Collaborative Urban Vacation Bible School also provides meaningful college exposure to the diverse group of students, and utilizes a leadership track for high school students.
The theme for the 2015 Collaborative Urban VBS is "Walk the Neighborhood." Drawing from both John 1 and Colossians 1 (texts below), we understand that God took on human form in Jesus and walked the neighborhood. As disciples of God, and out of abundant gratitude for God's gifts of love, grace, and forgiveness, we also walk our neighborhoods. During this year's VBS at Augsburg College, young people will walk the Cedar-Riverside neighborhood, work to identify their roles as being the visible image of an invisible God, and have fun participating in interactive workshops, games, and worship experiences!
Two specific Bible passages will help guide the "Walk the Neighborhood" theme. The bolded passages are added for extra emphasis. Both passages are taken from "The Message" translation of the bible.
John 1: 1-2, 14
"The Word was first, the Word present to God, God present to the Word. The Word was God, in readiness for God from day one. The Word became flesh and blood, and moved into the neighborhood. We saw the glory with our own yes, the one-of-a-kind glory, like Father, like Son, Generous inside and out, true from start to finish."
Colossians 1: 15-21
"We look at this Son and see the God who cannot be seen. We look at this Son and see God's original purpose in everything created. For everything, absolutely everything, above and below, visible and invisible, rank after rank after rank of angels—everything got started in him and finds purpose in him. He was there before any of it came into existence and holds it all together right up to this moment. And when it comes tot he church, he organizes and holds it together, like a head does a body. He was supreme in the beginning and— leading the resurrection parade— he is supreme in the end. From beginning to end he's there, towering far above everything, everyone. So spacious is he, so roomy, that everything of God finds its proper place in him without crowding. Not only that, but all the broken and dislocated pieces of the universe— people and things, animals and atoms— get properly fixed and fit together in vibrant harmonies, all because of his death, his blood that poured from the cross. You yourselves are a case study of what he does."