This year's Bernhard Christensen Symposium on September 20 features three opportunities to engage with Jim Wallis, a bestselling author, public theologian, and social activist.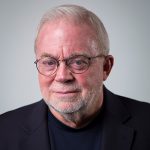 Wallis is president and founder of Sojourners, a nonprofit, faith-based organization whose mission statement calls for "putting faith into action for social justice." He has written for major newspapers and authors regular columns for Huffington Post and TIME.com. Wallis teaches at Georgetown University and has taught at Harvard University. He served on President Obama's first White House Advisory Council on Faith-based and Neighborhood Partnerships.
---
Christensen Symposium Convocation Address: The Bridge to a New America with Jim Wallis (poster PDF)
11:00 a.m. – 12:00 p.m. in Hoversten Chapel, Foss Center
Listen to the 2016 Convocation Address Belowhttp://web.augsburg.edu/acfl/Jim%20Wallis9-20-2016.mp3
---
Community Panel- The Bridge Toward More Just Communities: What Needs to Happen
4:30 p.m. – 5:45 p.m. in Hoversten Chapel, Foss Center.
The panel will be moderated by former ELCA Bishop Mark Hanson, and will include:
Pastor Kelly Chatman, Redeemer Lutheran Church, North Minneapolis
Nora Barr: Augsburg Alumna
Devin Wiggs: Augsburg Student
Fardosa Hassan: Muslim Student Advisor to Campus Ministry
Plus, a response from Jim Wallis.
---
Kick-off address for North Minneapolis Forum on Faith and Race
8:00 p.m. – 9:00 p.m. at Redeemer Lutheran Church, 1800 Glenwood Ave, Minneapolis, MN  55405
Note: The evening address is preceded by live entertainment from 7:00 p.m. – 8:00 p.m.