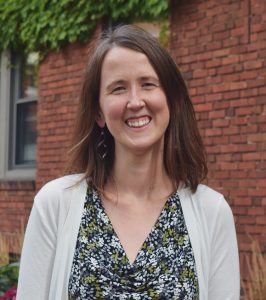 Lonna Field serves as Program Associate for the Christensen Center for Vocation (CCV) at Augsburg University. Part of her role includes co-directing the Augsburg Youth Theology Institute, leading the Christensen Vocation Intern program, and supporting other programmatic and assessment development. In the 2019-20 academic year, as the CCV transitions to a new vision and structure, Lonna is specifically helping manage and steward the transition of various programming. This includes continuing to support interfaith initiatives during the launching of the Interfaith at Augsburg: An Institute to Promote Interreligious Leadership.
Lonna has worked at Augsburg University since 2009 with roles through the Lilly Grant, Campus Ministry, the Center for Faith and Learning, and now the CCV. Throughout these 10+ years, she has been deeply impacted through the opportunity to learn, share, and live out Augsburg's mission with so many unique students, colleagues, and partners.
Lonna's professional experience has revolved around education and youth development, previously serving as Youth Director and Education Coordinator at Redeemer Center for Life and as a Mentor Coordinator with the Boys and Girls Club at Little Earth of United Tribes. Lonna earned a Master of Arts in Leadership from Augsburg University and a BA from Wartburg College in Elementary Education and Mathematics. A native Iowan, Lonna found a love for the city—especially North Minneapolis!—through her experience in Lutheran Volunteer Corps. 
Beyond Augsburg, you can often find Lonna running, baking, organizing or volunteering at community-oriented events, making music with the Capri Big Band, or playing in various volleyball, kickball, or softball leagues. Lonna enjoys spending quality time with family, friends, and church community, and she is a proud auntie and godmother to family members in Kentucky and Florida.