Ellen joined the Christensen Center for Vocation team at the beginning of March 2022 as the Operations Program Associate. Ellen will be supporting our initiatives by helping us communicate the stories of our work. Additionally, she will be helping develop and implement our new online collaborative learning community project with our new grant.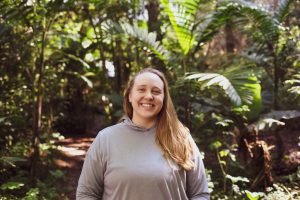 Prior to working at Augsburg, she worked in a variety of settings from youth and young adult ministry, CADI waiver case management, speech coaching, working in higher ed, and working as a parent educator. Ellen was a member of the Riverside Innovation Hub's first congregational partners working with young adults in a South Minneapolis congregation where she traveled with a group to Guatemala. They brought back their learnings that bloomed into a community space with fruit trees, a community garden and honey from the bees on top of the church.
When Ellen isn't working she enjoys being with family, throwing dinner parties with friends, playing softball, and being in her kayak on the water with her partner Caleb. She currently is on the board of Mental Health Connect, a collaborative that supports congregations with mental health resources, and is a member of the New Brighton Equity Commission. Lastly, Ellen is part of the Journey of Hope 2022 cohort with other faith leaders, "a program for people of faith to transform themselves and their communities through peacemaking". 
She fell in love with the initiatives of CCV, through RIH and AYTI and is grateful to be part of the team. Ellen cares deeply about belonging. She states "I want to belong to a place where people can heal and come back to our bodies. I want to be part of a place that creates better things for people to belong to." She was inspired by the space held for the young adults in her context and the way that the Public Church framework allowed them to feel valued, listened to and become changemakers in their context. The work she did with RIH was about belonging. She is excited to be part of the important work that all of CCV is doing. She is excited to learn new skills with the new online learning community while strengthening her communications and storytelling skills.