Angelique Young '25 (she/her)
Major: Social work, Minor: Psychology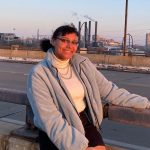 Hometown: Brooklyn Park, MN. 
I am one of the Student Assistants at the Christensen Center and Augsburg Youth Theology Institute. Having a positive impact on others is very important to me, from my work to my schooling to my personal life. I have worked for organizations like City Hall and Second Harvest that value helping others. It is also why I accepted my current position with the CCV and AYTI. I value gaining experience and opportunities that will benefit me in the future. 
---

Renee Christensen '23 (she/her)
Major: Theology and public leadership, Minor: Psychology
Hometown: Shafer, MN.
I am one of the Augsburg Youth Theology Institute Student Assistants, and have worked with AYTI for 3 years! I was lucky enough to attend AYTI as a participant and fell in love with Augsburg and this program! I am so excited to share all of the great ways AYTI has impacted the lives of youth!
---
Jam Pashyayeva '25 (she/her)
Major: Graphic Design
Hometown: Capital of Azerbaijan, Baku.
I am an international student at Augsburg. I am good at a range of different skills such as cooking, writing, and all sorts of sports (cycling, tennis, basketball, swimming and etc.). I know English, Russian, Ukrainian, and Azerbaijani languages on an exceptional level and currently learning French and Italian. I worked as a personal translator for KoçSistem Company Director. Art was always my passion since a very young age that's why I decided that working in the sphere that will require my skills and this position at CCV as part-time work is the best opportunity to start learning and getting on the right track for my future career.
---

Aaron Puent '23 (he/him)
Major: Religion w/ Concentration in Global Religions and Interfaith Studies
Hometown: La Crosse, WI.
Working in CCV is important to me because it combines my passion for studying theology with my interest in helping others find the spiritual and intellectual tools that they need. I began working with CCV last year when I was an AYTI mentor. The following fall, I was able to join as a recruiter for the Public Church Scholars program. Because of this work, I can help others find what they need for future success, and I am still learning about Augsburg, its affiliations, and the behind-the-scenes work that goes on in the background.  
---
Sarah Runck '24 (she/her) 
Major: Music Therapy 
Hometown: New Ulm MN
I love to play instruments which include flute, piano, guitar, and ukulele. I also grew up on a farm where I always liked to be outside and go on walks. Along with this, I was involved with my church growing up. Some church things included helping with VBS, teaching Religious education to 2nd graders, helping with music, and helping with festivals. Faith has always been a strong passion of mine and working at CCV has given me the opportunity to grow in my faith and learn about other religions. I am excited to keep learning and to hear more stories!