While summers can be hectic, they also can be a time to feel more grounded and to reconnect to our bodies and the earth. If we are quiet and listen, we can hear our bodies calling us to connect with the earth, which in turn is calling us back to each other. It can be a time to push back on the myth that we need to be always producing. Always checking the tasks of the list and making "progress". 
With more people out and about rather than nestled inside, we are given the opportunity to meet those around us with our presence in new ways. This month we will be inviting you to reconnect in a variety of ways, with yourself, with your neighbor, with our initiatives, and even our CCV Staff! We have some recent changes with two of our staff members now in new roles and we would love for you to celebrate them with us! 
In case you haven't met these two lovely individuals, it is a pleasure to introduce you to two amazing humans who are on our CCV staff. Amanda Vetsch and Geoffrey Gill. 
If you have the chance, please send them a congratulations via email or the next chance you see them!
Amanda Vetsch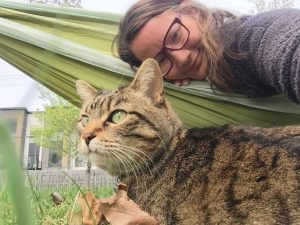 Amanda joined the Christensen Center for Vocation on Riverside Innovation Hub team in August of 2018 as an Innovation Coach. During that year she learned and explored at the intersections of church, neighborhood, and young adults. She then moved into a communications role with the Hub while she finished up her M.A. in Theology with a Concentration in Justice and Reconciliation from Luther Seminary. After that, she helped recruit and launch the next congregational learning community. Now she works as the CCV Lead for Special Projects. One of the special projects is continuing to facilitate a learning cohort of congregations in the RIH learning community. Another new thing she gets to work on is a book project that will amplify what young adults want the church to know. 
Prior to working at Augsburg, she spent some time away from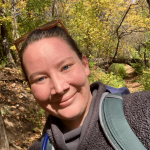 Minneapolis in La Crosse, WI and Rwamagana, Rwanda. In La Crosse, she studied Biology, Religion, and Math at Viterbo University. Then she lived, played, and learned alongside the community of Rwamagana Leaders School in  Rwamagana, Rwanda. She calls St. Peder's Lutheran Church, her home congregation. Amanda plays and coaches volleyball, hikes and camps, spends time with her cat, drinks a lot of coffee and tea, and reads books. This year, she hopes to read forty-five (for fun) books, thirty to go!
Though her title and tasks have changed through her time in the Christensen Center for Vocation, she has continued to love the way that the team holds a hopeful realism about the church. Her favorite artform of the Public Church Framework is Accompaniment and the multitude of ways it takes shape. She loves that part of her work is exploring neighborhoods, churches, and communities. She also appreciates that the CCV Team grounds the questions of vocation into the particular and the mundane. Asking ourselves and the learning community, "what does it look like, feel like, taste like and sound like to show up for the sake of my neighbor, and for the sake of a thriving community in this place and this time?"
Geoffrey Gill
One of Geoffrey's favorite quotes and something he is leaning into:  "Integrity is the courage and self discipline to cooperate and initiate according to the Divine, which you know in your heart to be Truth".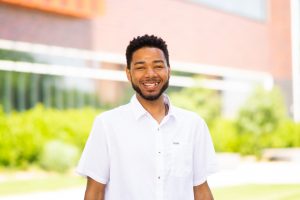 Geoffrey is inspired by his son Liam (7). Who teaches him to pay attention to the little things, be more patient, and to love unconditionally. 
Geoffrey joined the RIH team in June 2021 as a part time facilitator, and since April of 2022 has been working aslead facilitator, assisting 8 congregations through the process of public church.  
Geoffrey is also a partner at Future Systems Consulting International, a consulting firm. The firm focuses on change and transformation with individuals and organizations. Also, they're celebrating their first published book, called I-trust; trust starts with you, and permeates all that we are, and do. Along with Geoffrey's private coaching clients he is also mentoring young men and leading healing and restorative justice circles. 
Geoffrey graduated from Augsburg College with a BA in Youth and family Ministry. He is also a certified Master Life Coach through Best Life Coaching Society.
In Geoffrey's free time he is developing music, vlogs, spending time with nature, or just being still.