Thank you to everyone who joined us in-person at Quincy Hall and virtually on Saturday, November 13 for the StepUP Gala. Together you helped us raise over $425,000!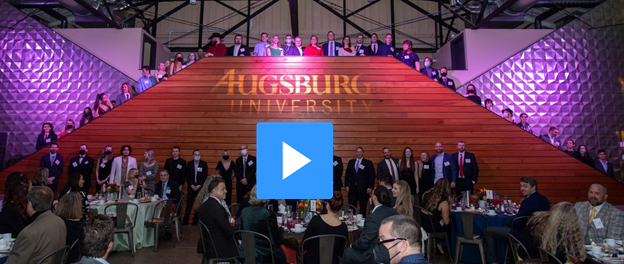 Click above to watch a recording of the livestream.
Interested in helping plan the next StepUP gala? Please contact Martha Truax at 651-261-9646 or truaxm@augsburg.edu.
Thank you to our generous sponsors!
Signature Sponsors ($25,000+)
Carlson Family Foundation
Gage Family Foundation
Scott and Gina Gage Family Foundation
Bobby and Liz Poteete

Jill and Robert Thomas
Gold Sponsors ($10,000-$14,999)
VIP Sponsors ($2,000-$4,999)
AiRCare Health

Gina and John Byers

Culp Family Foundation
Karim El-Hibri and Carley Meinert
Maura Gunter
Kevin and Polly Hart
Hazelden Betty Ford Foundation

Max and Jessica Marcy/H.B. Fuller

NUWAY
Options Exteriors
Xan and Mary Oser
P.E.A.S.E. Academy
The Retreat
Chris and Steve Rivard
Tom and Molly Rothstein/The Lion House
Doug Scott and Grace Schroeder Scott
The Sweeney Family
Use the button on the following heading to expand content on 2021 Gala Sponsors
Use the button on the following heading to expand content on 2021 Gala Sponsorship Opportunities