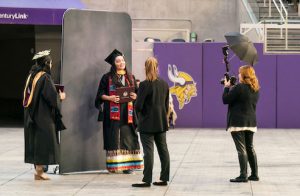 Augsburg University will make arrangements to photograph graduates during the Commencement ceremony. Proof and purchase information is available to graduates by following the steps below.
Scan the QR code below and text code 430063GY23 to 90738* and register to view the photos.
2. Sit back and wait for your gallery to be published. You'll get a text notification the minute your photos are ready.
3. If you purchased a credit prior to commencement, you'll automatically receive a message when it's time to view your photos. The entire credit purchase will apply to your order and it's linked to the mobile number you used to make the purchase.
4. Next, find your photos and tap "Buy" to see the packages and products your photographer has made available to you.
5. When it's time to checkout, you can review your final order and apply any credits at that time.
6. Make sure to subscribe to text and email communications so you receive tracking information and your receipt.
*Data and message rates may apply.
Graduates and commencement guests are under no obligation to purchase photographs.