Part-time students are expected to complete the program in 3 years.
A total of 6 didactic courses constitute the DNP program. Each course equals 3 semester credit hours. Courses are taught in an immersion format, two days a month, 8 hours of class the first day and 4 hours of class the subsequent morning, followed by a 1/2 day seminar. Attendance at all classes is expected. While there is an on-line component to courses and practica, being in presence with one another is the desired teaching-learning method.
Classes are held on Augsburg's campus in Minneapolis and at our learning site at Bethel Lutheran Church in Rochester, MN. While video conferencing is used to connect to the Rochester site for some classes, all students and faculty must be prepared to drive at least once a term for classes. Seminars are usually connected via video conference.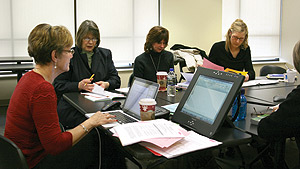 Graduates of Augsburg's DNP Program will be prepared to:
Lead change within and across organizations and health systems
Improve health care services to eliminate health inequities
Advance evidence-based practice and initiate practice-based care models
Influence health policy and advocate for underserved populations
Weave networks of understanding and collaboration across disciplines and cultures
Impact population and community health outcomes among those most marginalized by oppressive societal structures
Advance primary prevention within communities
Create innovative educational approaches for diverse populations
Utilize a holistic perspective to enhance human betterment and health locally and globally.
Graduates will be eligible to sit for advanced certification exams in Advanced Transcultural Nursing, administered through the Transcultural Nursing Certification Commission (TCNCC), and Advanced Practice Holistic Nursing Certification through the American Holistic Nurses Certification Corporation (AHNCC).