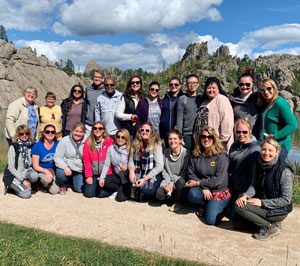 The DNP – Transcultural Nursing Leadership (TCN) is a post-masters in nursing program with an emphasis in transcultural nursing leadership.
Within the framework of liberal arts education and guided by the values of the Lutheran Church, the post-master's Doctor of Nursing Practice program, TCN Leadership track of study prepares nurses for advanced transcultural nursing leadership in communities in order to maximize health through peaceful, just, and collaborative actions that uphold and improve human potential across care settings and care systems, with emphasis on eliminating health inequities locally and globally. 
This is an innovative, transcultural nursing program for nurses with a master's degree in nursing. The DNP program offers post-master's nursing specialization and prepares nurses for advanced transcultural nursing in community life, integrating holistic practice modalities. Students benefit from one-on-one interaction with faculty who have broad experience in a variety of cultural contexts to be prepared to lead as agents of change within the rapidly changing healthcare systems.
APPLY NOW
Hybrid DNP-TCN Program Highlights
Location: Minneapolis or Rochester Campuses
Format: Up to 4 sessions per semester via synchronous Zoom; Asynchronous learning between sessions, face-to-face practicum experiences
Completion time: 2-3 year program (PT/FT Options)
Credits: 33
Cost per credit (2023-2024): $1,015
Start: Fall
Additional spotlights: Health equity-focused, Holistic practice modalities, Immersion experiences, Faculty and/or independent practicums, Certificate pathway opportunities
Students must be a licensed RN with a Masters in Nursing before enrolling.
Scholarship Opportunities
An Augsburg education is one of the most worthwhile investments you'll ever make, and we are committed to helping you find ways to make that investment affordable.
DNP students employed by an Augsburg 

corporate or community partner

may be eligible for

$80 off (per credit) tuition reduction

Department of Nursing Awarded Scholarships

Inclusion Excellence Scholarship:  Aimed to reduce financial barriers to graduate education for BIPOC identifying students, historically under-represented students, first generation college students, and/or those with the greatest financial need. Learn more HERE.