TErra Firma
August 29 – October 27, 2016
Reception: September 16, 6-8 p.m.
In this exhibition of new drawings and sculpture, Vossler reflects on the narrative of Dante's Inferno, specifically exploring how the metaphor of water functions as both a connective element and a source of danger.
Artist statement
Dante's epic poem Inferno is an allegorical account of the weight of human transgression, and its complex metaphorical richness has enduring resonance. Nine "circles" of hell are described, each corresponding with sins of escalating consequence. In Dante's story, the circles occupy distinct physical terrain, and the landscape itself is presented as vividly as the human and mythical characters are. Physical forces—the effects of rain, wind, and sleet, the perilous nature of mud and ice, and the pull of gravity—all become part of the narrative. Water, especially, functions as both a connective element and a source of mortal danger, exemplified by the treacherous swamps, marshes and depths of the river Styx. My work in Terra Firma explores these metaphors and dissonances through a contemporary lens.
Bio
Megan Vossler received her BA from Brown University and her MFA from the Minneapolis College of Art and Design. Her work has been exhibited nationwide, including shows at the Minneapolis Institute of Art and the de Young Museum in San Francisco. Megan has been a recipient of several prestigious awards, including a Jerome Foundation Fellowship for Emerging Artists, a McKnight Artists Fellowship for Visual Artists, a Jerome Foundation Travel and Study grant, and two Minnesota State Arts Board Artist Initiative Grants. She currently serves on the curatorial panel at Soo Visual Arts Center, and teaches drawing at Macalester College.
---
TERRA FIRMA – q/a with artist
What lessons did you take from Dante's Inferno, and how do those themes play throughout your artwork in this show?
I read Mary Jo Bang's translation of Inferno (Graywolf Press: 2013), and I was struck by how she brought the narrative into the present day. Her translation is full of references to current events and popular culture. This really brought the story to life and emphasized the timelessness of the human behaviors that Dante classified as "sins" — even the specific characters in his story (especially certain politicians and the like) have their counterparts in today's world. But what interested me even more than the characters and their transgressions were the landscapes that Dante invented for each of the nine circles of Hell. Each circle has its own distinct terrain, climate, and weather that is perfectly tailored to the punishments that occur there. For example, the second circle is characterized by a ferocious wind that tosses about the bodies of those who are punished for sins related to "Lust": the way that their bodies were out of control in real life is re-created eternally in the afterlife.
So each circle is a different microcosm and a different landscape. In the narrative, the circles are loosely connected by a network of rivers, swamps and waterfalls. In the large drawing, titled Geothermia, I tried to stay faithful to these different landscapes, while avoiding directly illustrating very many literal scenes from the text. I think, in the end, that piece becomes less about divine punishment and more about the earth itself — the earth is buckling under the weight of human transgression. It's almost as if the earth is being punished.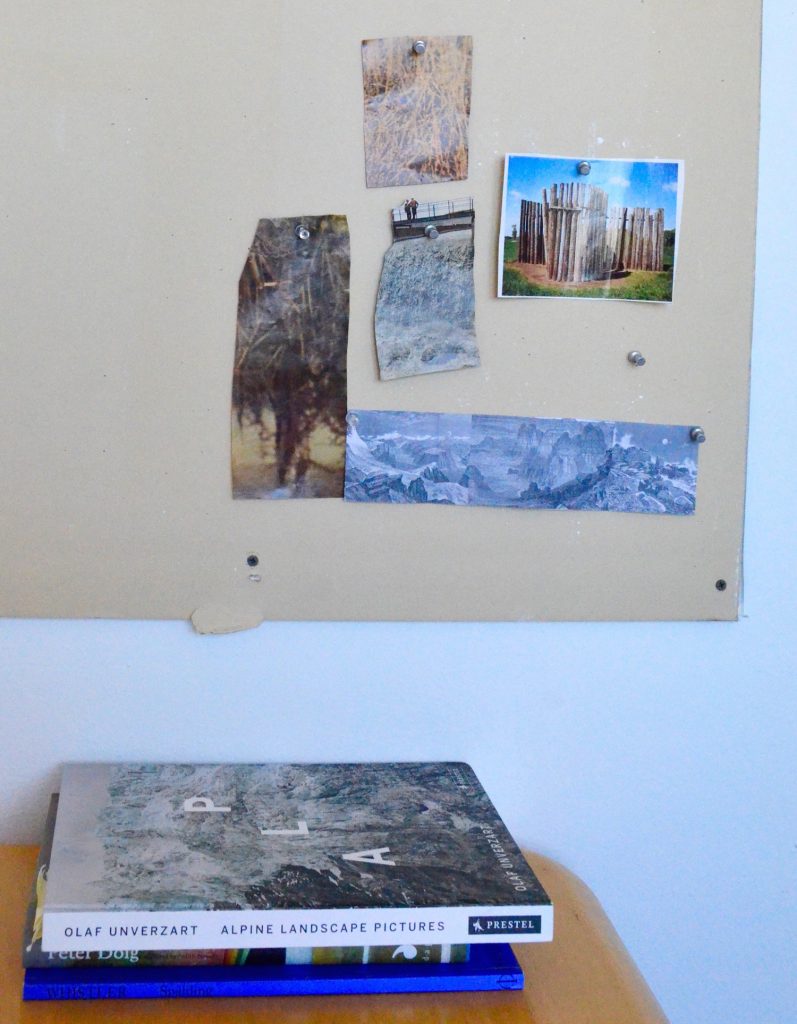 Water is a strong theme within your show; could you tell us more about what it means to you and its influence in this work?
Water functions as a connective element between the circles of Hell in Inferno, but it is also treacherous: at the fifth circle, for example, Dante and Virgil are ferried safely across the river Acheron, but it is filled with the souls of the sullen, who are choking on mud. Bodies of water in both the narrative and in real life have a dual nature as both conduits of passage and a source of danger, and this informs all of the work in the show.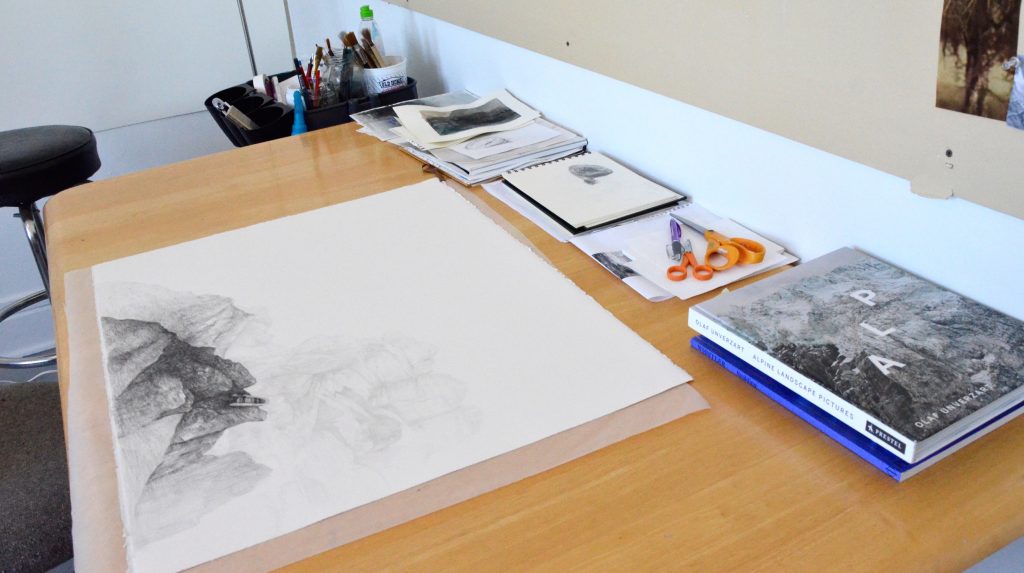 Could you tell us more about the life jackets? What is the symbolism behind them and the paper, bronze, or moss that they are made of?
The life jacket is a small object with very large connotations and symbolism. Their inclusion in this show came initially from the conflation of water and danger in Dante's narrative. But the forms of life vests and rescue boats take on a more immediate urgency with the refugee crisis in Syria, which has left more than 10 million people displaced. Almost half of those have fled across the Mediterranean in often deadly conditions. The lack of safe passage across the sea is only the beginning of their dangerous journey.
The cast paper and the bronze are each extreme examples of materials that cause the life vest to lose its ability to function. The arrangement of the paper life vests on the floor is meant to have a certain immediacy, as though they just washed ashore — and the translucent paper makes them almost ghostlike. The moss life vest is titled "Ruin," evoking a sense that it has been abandoned and eventually overgrown.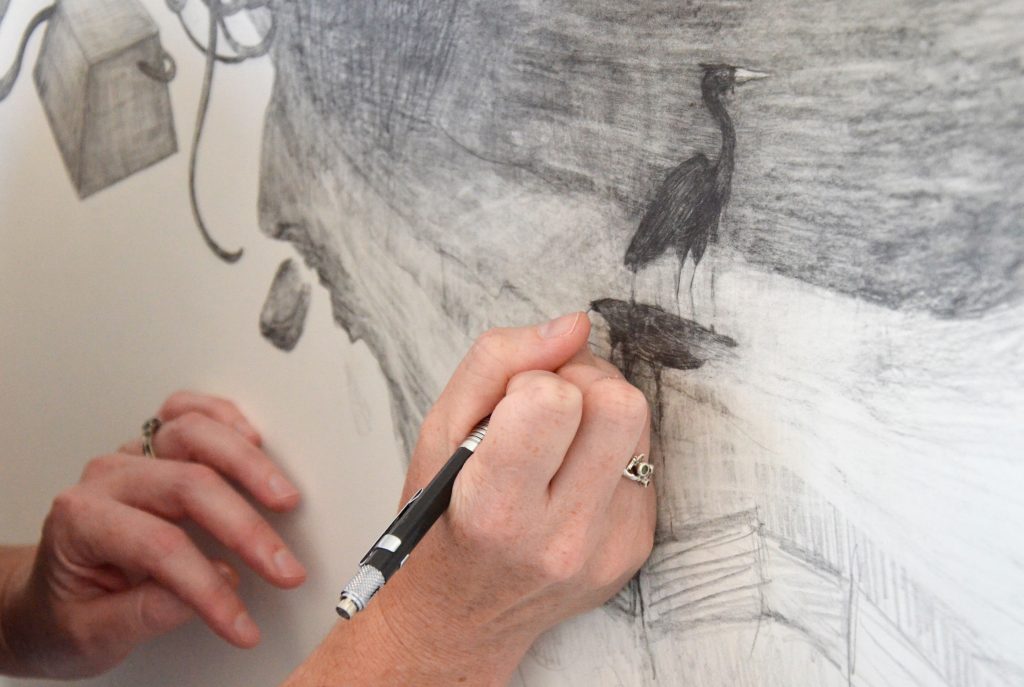 What are some of your biggest challenges to overcome during the creation process?
In general, I would say my biggest challenges usually center around the question of what to include and what to leave out. In Geothermia, I had to continue to remind myself that I was not illustrating the book. There are so many vividly detailed scenes in Inferno that would be so great to draw, but I had a goal to make a piece that would stand on its own, so I had to scale back on the direct references. I also found the composition pretty challenging, to figure out a way to link the different scenes together without resorting to a simple cone shape with concentric circles in it. Then, there are always technical challenges — in this case, this is the first time that I've made works in bronze and cast paper, so there was a steep learning curve there.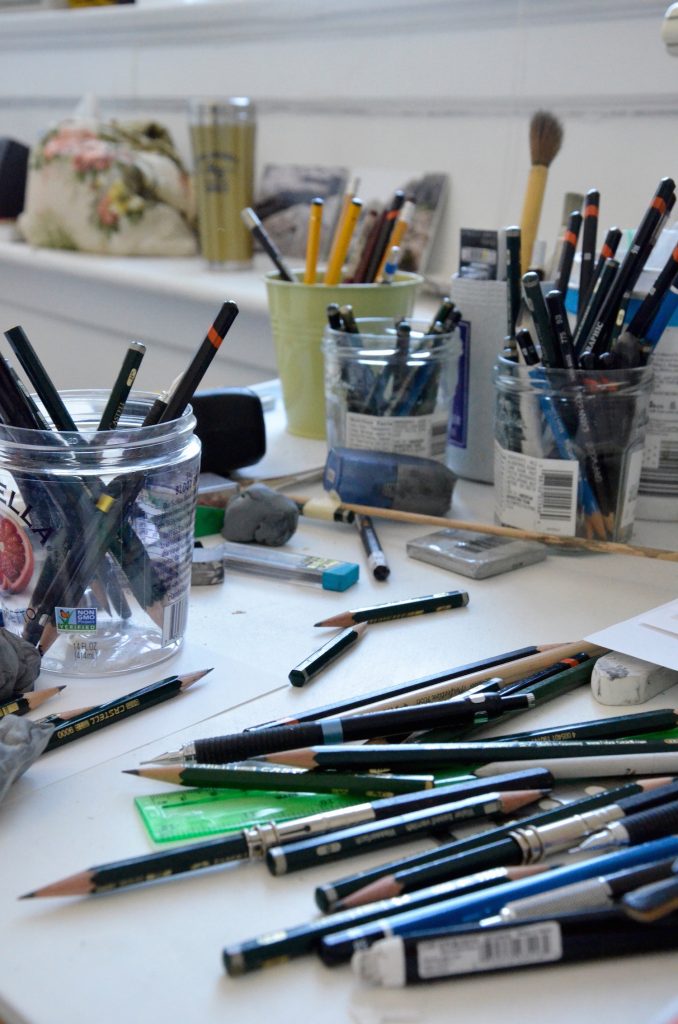 What words of wisdom would you pass along to aspiring artists?
Just to start. Beginning is the hardest part. If you have an idea that nags at you, no matter how ridiculous it might seem, you should try it. I talk a lot about the importance of failure with students, and it's just a fact that not everything you attempt will succeed — and that can feel very intimidating at first. And failure is incredibly uncomfortable at times. It sucks. But if you get good at starting things, you'll always have another project to jump into. It's easy to finish something that's going well — it's a lot harder to start something new that is a risk. So I think cultivating the ability to start is almost more important than cultivating the ability to finish.
Questions by Gallery Assistant Katie Smith
---
TERRA FIRMA – images