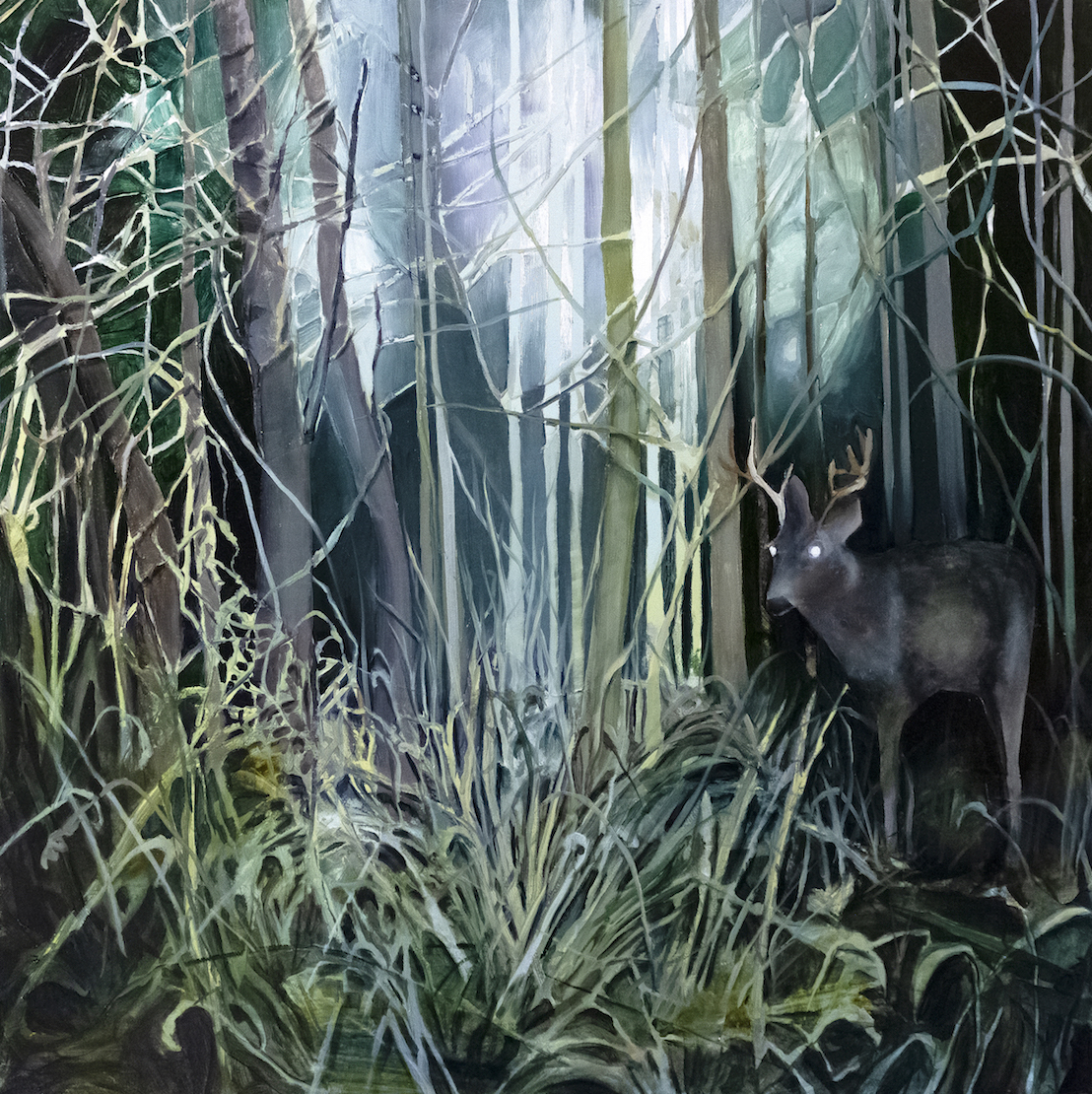 Nightfall
March 2–15, 2020
Reception: March 5, 6–8 p.m.
---
The artwork that makes up the series Nightfall explores the forest at night in order to better understand the life of the forest, especially in the (relative) absence of human interference. These quiet observations of the interconnected activities and processes of the nighttime forest aim to invite the viewer into a sense of entanglement and belonging with these natural spaces.
Artist Statement
My abstracted landscapes are inspired by Rice Creek and the surrounding forest and suburbs near my home in Fridley, Minnesota. The subjects of my paintings – including downed trees, stagnant pools, and tangles of brush – demonstrate growth, decay, and various states in-between. I use overlapping imagery, expressive color, repeating pattern, and abstracted form as a metaphor for a subjective and ever-changing perception of reality. Viewpoints are chosen to create an experience of "being there" for the viewer. Shadow, light, and pattern obstruct or complicate a descriptive understanding of these places. Instead, the paintings offer a psychological interpretation of each chosen site, illustrating an appreciation for the impermanent and interdependent nature of things.
Bio
Shannon Estlund is an artist and educator living in Fridley, MN with her husband and two daughters. She holds a Master of Fine Arts in Visual Studies from the Minneapolis College of Art and Design and received her B.F.A. from the University of Florida. Shannon has received several grants for her work including several Minnesota State Arts Board Artist Initiative grants and two Community Foundation Art Ventures grants in her native Florida. She has exhibited her work nationally and internationally at museums and galleries including the Crisp Ellert Art Museum (FL), the Elmhurst Art Museum (IL), Soo Visual Art Center (MN), the Cummer Museum of Art and Gardens (FL), and at the National Galleries of Scotland. Her work has been featured in New American Paintings and Studio Visit magazines. Shannon is a current member of the collective Rosalux Art Gallery in Minneapolis.
---