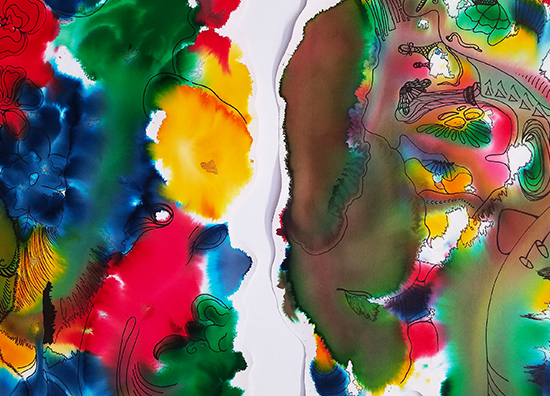 february 5 – 15, 2018
Christensen Center Student Art Gallery
Artist Talk: Thursday, Feb. 15, 5:30 – 7 p.m. Christensen Center Student Art Gallery
Connections is a visual journey into a complex family of eight individuals. By using line work and mixed-media watercolor techniques, Tomczak invites the viewer to connect to the loving family dynamic through an adventure of self-analysis.
Bio
Ty Tomczak is a watercolor painter living in Minneapolis, Minnesota working to receive his BA in Studio Art at Augsburg University. He specializes in portraiture, sceneries, and linework to convey individuality through watercolor paintings.
Statement
My work utilizes the materials of watercolor and food coloring to demonstrate the importance of family bonds. This demonstrates that family is important and would like others to see its importance. I am representing my own family as paintings and cut silhouettes that encircle a mirror. The central mirror reaches out to the viewer by including them in my family and reminds them that who they are isn't limited by their reflection. Silhouettes respond to humanity's judgment on appearances and demonstrate that what's on the outside isn't what makes a person. I am appealing to what's on the inside, underneath the surface, because I believe that everyone's different.
My work aims to represent the whole of a family by breaking down its complexities into parts. This can be seen by my choice to have two sections in my exhibition: a simplified, individual side, and a grouped, less defined side. Its simplified side shows the beauty of how well family knows one another. Its complex side shows how the family works through life as a group. I would like others to understand that family is important to me through both sides of the spectrum and that it is positive to be a part of something.
For me, family has been an encouraging force driving me towards loving who I have become. Through this encouragement, I am drawn to study human identity. This study on human identity relates to my contemporaries by my close analysis to the differences in humans.
---
Images from exhibit