The following are excerpts and photos from the student blog "Living in Windhoek Through the Lens of History, Politics, International Development, and Religion By: Jack DeFraites, Tulane University '24". Jack studied abroad with us on the program, "Decolonizing the Mind: Racial and Environmental Justice" in fall of 2022. Shared with permission from Jack.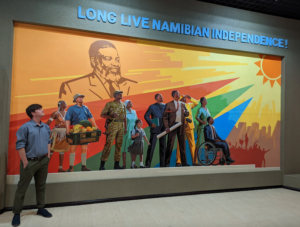 Monday, September 26th: A Typical Day Interning at Goethe Institut Namibia
Since September 19th, I have been working each Monday, Wednesday, and Friday evenings as a teacher's assistant for the B1 German Level evening classes. I am the assistant to Frau Christine, a German teacher from Nairobi, Kenya who like me, had the opportunity to live and study in Germany when she was young.
I thoroughly enjoy interning as a German teacher leading lessons from the supplied textbook because I have learned of the positive power the German language can have on Namibians, even with imperial Germany's dark past in the country. Similarly to the American Cultural Center, the German language and the Goethe Institut provide Namibians the qualifications of a B2 certificate to obtain a German visa to work or study in Europe, an opportunity I myself was fortunate to experience.
It feels great to bond with students who are my age or just slightly older by sharing my optimism and my experiences of living in Germany. I believe it is an example of positive cultural diplomacy.
Friday, October 7th: Class at UNAM (The University of Namibia) and a Tour of the Windhoek Islamic Centre with Professor Namushinga. A close second for my favorite day excursion is the dual trip to UNAM and to the Islamic Centre in Windhoek West.
Professor Namushinga pulled a genius move by moving our class to Friday this one time, which allowed him to combine our class with his official UNAM course on Islam. After his class lecture, we piled into the CGEE van and went to the Islamic Centre.
While in many ways the experience was a gratuity tour in an effort to convert us, it really did feel like a welcoming space although the female students could have and likely felt differently. Nevertheless, I really appreciated it when they showed us the washing ritual before going to pray as well as the centre's library. Truthfully, it filled me with a special joy to see their library because it is a combination of golden Quran books in the original language of Arabic, Islamic literature in all world languages (such as a German-translated Quran they let me take), and even secular books (i.e. Harry Potter). They also had many pamphlets explaining misconceptions of Islam based on fear, which although at a closer look is just tailored propaganda produced by the Gulf States, still is useful and necessary to break down many Westerners' xenophobic and false beliefs about how Islam is nefarious.
---
Thanks again to Jack for sharing his blog with the wider Augsburg and CGEE community! Read more of his daily life and experiences with us in Namibia at South Africa at his blog site.