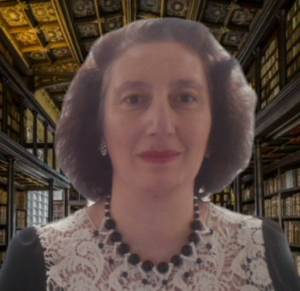 The Augsburg University Interfaith Institute is delighted to announce that Dr. Thea Gomelauri will be joining the Institute as a Senior Fellow. The fellowship is a key anchor in the partnership between Oxford Interfaith Forum  and the Institute. Our Executive  Director, Najeeba Syeed has also been appointed to a senior fellowship at the Oxford Interfaith  Forum. We look forward to a joint collaboration across the globe on issues of peace, justice, intercultural and interfaith education and furthering interreligious learning. 
Dr Thea Gomelauri is a Member of the Faculty of Asian and Middle Eastern Studies at the University of Oxford, and Director of the Oxford Interfaith Forum. She has a vast experience in research, teaching, and consultancy in different international, and intercultural contexts. Thea held Academic Fellowships with the Central European University, Open Society Institute, World Bank Institute, and the University of Oxford. She is a recipient of multiple research and teaching grants, including HM King Abdullah II of Jordan World Interfaith Harmony Award for Religious Education, Curriculum Development Grant at Interfaith Youth Core, USA,  Robert S. McNamara Research Fellowship at the World Bank Institute in Washington DC, USA, International OSI Policy Fellowship at the Open Society Institute in Budapest, Hungary, Curriculum Development Fellowship at Central European University in Budapest, Hungary, and European Commission Tempus Program in Berlin, Germany. At different times, she worked on research and consultancy assignments with the EBRD, UNDP, and UNHCR in troubled and war-torn regions of the world.
Thea is a member of the Jewish-Muslim Research Network, the Bible and Religions of the Ancient Near East Collective, and the British and Irish Association of Jewish Studies. She has presented papers at the International Conference of Patristic Studies, and the Ian Ramsey Centre for Science and Religion at the University of Oxford, and the British and Irish Association of Jewish Studies. Her research interests include: Comparative Religious Studies; Biblical Exegesis; Reception History of the Bible; Manuscripts and Material Culture. She has contributed chapters on David's Children in Art in the Oxford Handbook on King David (OUP, 2024), Reimagining Abishag: Retelling her Story in the Routledge Handbook of the Hebrew Bible in contemporary Fiction and Poetry (Routledge, 2024), and Paul of Thebes in Georgian Manuscript and Ecclesiastical Culture in The Lives of St Paul the First Hermit (Brill, 2024). Currently, she is working on The Lailashi Codex: The Crown of the Georgian Jewry.
For more information and a publication list, please, visit: https://www.oxfordinterfaithforum.org/dr-thea-gomelauri/