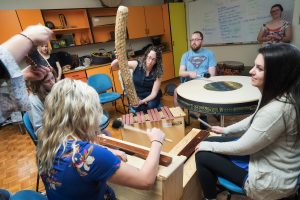 Do I need a Bachelor's degree in Music Therapy to be considered for the Master's Program?
No. There are two ways to enter the Augsburg University Master of Music Therapy program.  The first for those with a bachelor's degree in Music Therapy is the  MMT track and classes begin each Fall.
The second is for those with a bachelor's degree in Music, who need to complete the Equivalency plus Master of Music Therapy coursework.
Are there any classes I should take prior to applying to the Master's program?
There are prerequisites to the master's program. Students have the choice to complete these prior to enrollment or during the course of your time at Augsburg (prior to the clinical internship).  Please contact admissions for an unofficial transcript evaluation as you may have completed some of the non-music therapy prerequisites during your bachelor's degree.
The program is listed as Hybrid, how much time will be spent on campus vs. online?
Currently, all MMT courses are a 60% on campus, 40% online split. The 60% face to face on campus time happens in intensives based on your course credits (6-9 days total each term). For instance, a three credit course such as MUS 510 would meet on campus for three intensive days. Additionally, there are two courses that are fully online.
Can I apply before I've completed my Bachelor's degree?
Yes, however your degree must be completed prior to enrolling in the Master of Music Therapy track, and your board certification must be current. For Equivalency Plus MMT students, it is possible to receive conditional acceptance for the Summer term's equivalency requirements if there is an overlap with the final weeks of your bachelor's degree and the first weeks of the Equivalency work. Conditional admittance is granted on a case-by-case basis.
How much is tuition?
The most up to date tuition information is found on the Student Financial Services page. The MMT track (for students who are board certified music therapists) is 36 credits. The Equivalency Plus MMT track (for those with a music major) is 52 credits, however it can be up to 64 credits if a student chooses to take all of their prerequisite work at Augsburg, rather than completing them prior to enrollment.
Do I need to take the GRE?
No, we do not require the GRE or any other exam.
My primary instrument is something other than the guitar or piano, should I still apply?
Yes. Most music therapists utilize both guitar and piano as often and even more often than other instruments. Music therapy training does require demonstrating proficiency in guitar, piano, and voice.
Are there scholarships available? 
There are currently no specific scholarships for graduate students in Music Therapy. The best place to find music therapy scholarships is through the American Association for Music Therapy's website.
How should I submit my audition materials?
Your audition should be uploaded to your application.
What accreditation does Augsburg's program hold?
The Music programs are accredited by the National Association of Schools of Music, and its music programs fulfill all NASM curricular standards. The Music Therapy programs are approved by the American Music Therapy Association. Augsburg University is accredited by the Higher Learning Commission. For more information, see Accreditation, Approvals, and Memberships.
How much do Music Therapists Earn?
This will depend upon many factors including: where you are practicing, years of experience, educational training and preparation, the institution, and the client population.  And if the patient's insurance reimburses, etc. The American Music Therapy Association reports that in 2018 the median earnings of music therapists was $48,835.
Where do Music Therapists work?
Hospitals, psychiatric facilities, schools, prisons, community centers, daycare centers, training institutes, universities and private practice to name a few. Music therapists work in a wide variety of settings.
Is Music Therapy reimbursable through my insurance?
Some insurance companies do reimburse for Music Therapy and as the profession becomes more widely known, that number is and should continue to grow.  Currently, it will depend on the insurance company and area of the world.
Why should I get a Master's degree in Music Therapy?
Most countries outside of the U.S. require a master's degree for you to practice. The AMTA is under discussions about transition to a master's level entry as a requirement to become a board certified music therapist.
Have other questions? For more information, contact the MMT Program Coordinator:
Deanna Davis
davisd2@augsburg.edu | 612-330-1150