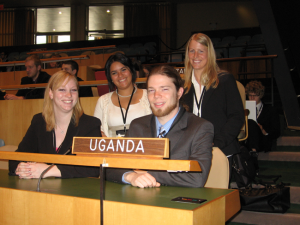 Augsburg University has had an active Model UN program since 1997 and attends the National Model UN Conference in New York City each Spring.  This trip includes five days of intense negotiation and diplomacy with an international gathering of over 5,000 students.  On the trip our delegation also meets with members of the UN diplomatic corps and takes advantage of the many resources and organizations of New York.
Read more about the annual NMUN Conference
Any students interested in international relations and diplomacy are welcome to apply.  It is a demanding and highly educational experience, requiring extensive preparation, research, and practice with public speaking.  Applications for the Augsburg delegation are accepted in the fall by late October.  Accepted delegates take POL 368, the Model UN class, in the Spring term.  For more information, please contact the MUN advisor, Prof. Joe Underhill (underhil@augsburg.edu).
Countries Represented and Partner Delegations:
1999: Slovakia
2000: Laos
2001: Guatemala
2002: Namibia
2003: Indonesia (joint delegation with the University of Idaho)
2004: Venezuela (joint delegation with the Central University of Venezuela)
2005: Pakistan
2006: Denmark (and the Council of Europe)
2007: India (joint delegation with the University of St. Thomas)
2008: Panama
2009: Cote d'Ivoire
2010: Uganda (Security Council seat)
2011: Namibia
2012: Egypt
2013: Tanzania (and Pakistan on the Security Council)
2014: Senegal
2015: Guatemala
2016: Yemen