Are you interested in working for social change? Would you like to pursue a career in government and politics? Are you concerned about things such as the environment, or social justice?  If you answered "yes" to any of these questions, the Public Policy and Political Change concentration in Political Science is for you.
This concentration is designed to help prepare you for graduate work in public policy or public administration, or for work in social and political activism. A strong desire to work for change isn't enough; it has to be accompanied by an understanding of how to effect change, and this major allows you to develop that understanding. Many of our graduates go on to earn an advanced degree in public policy or public administration, and then work for state or local government. Others work for community-based organizations, or other nonprofits.
The Public Policy concentration takes advantage of the huge range of internship opportunities available in the Twin Cities metro area. Students can learn a great deal from these, and some do a second or even third internship, knowing that the experience gained can be extremely valuable when looking for a job after graduation. Some choose to do an internship while participating in an intensive program studying inequality in the Twin Cities area, through the Higher Education Consortium for Urban Affairs (HECUA), where much of the learning occurs outside the classroom. Augsburg is a founding member of HECUA, and many of our Political Science majors have participated in their programs. Check with your advisor or the department chair if this interests you.
The requirements for the concentration have been arranged to make it easy for students who would like to combine this with another major, such as economics or urban studies. Or, if a double-major won't fit into your schedule, you can easily major in one area and minor in another. Consult with your advisor or the department chair for more information.
---
Careers in Public Policy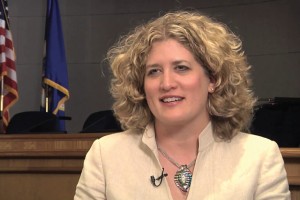 Many of our graduates have gone on to careers in government. Former students have worked for all levels of government: in Congress and the executive branch agencies in the federal government, in state government, and also in local government. Several of our students have built on their interest in local government to work as city managers or urban planners.
Some students move immediately into jobs after they graduate from Augsburg, often because of experience and connections they have made in internships they have done while a student. Another common career path is to work in government for some years and then to move into the private sector, sometimes working for non-profit organizations, sometimes for corporations. As noted above, some go on to pursue a Master's degree in public policy, enabling them to move on to higher positions.