The last few weeks have been so busy that it has been hard to squeeze in time to update the blog.  Our days are full of study, paddling, cooking, and fieldwork.  We are on a fairly arduous pace (in other words we are frequently pretty tired), and finding that there is so much to see and do that we are fairly overwhelmed, and wish we could extend our stays in each town we stop in. The studying can take place in all sorts of settings (here in a tent with headlamps and the whiteboard):

After Dubuque we headed through Pools 12 and 13, and the 13th was indeed unlucky for us. We had strong winds in the pool with fairly large waves, and had to cross a treacherous stump field.  The stump fields are the remains of the old floodplain forests that were logged off before the river was dammed.  Once the dams were in place the stumps were submerged and in some places they remain just inches below the surface.  In most places they aren't a problem, but lower Pool 13 if full of old stumps just below the surface and our canoes caromed off them as we tried to get down to the lock.  Next time, we will be sure to stick to the main channel.  After making through the stumps we had a long wait for a barge at the lock (when there is a barge locking through, there is about a two-hour wait).  It was challenging for the whole group to navigate the large pool with those winds and hazards, and then to have to wait out the barge on an exposed and rocky spit.  These are the kinds of "growth opportunities" we find on trips like this.
Below the lock we paddled through Beaver Slough adjacent to Clinton, Iowa, past a series of massive agro-industrial processing plants, mostly owned by Archer Daniels Midland (ADM).  The smells and effluent were an affront to the senses and a rude change from our experiences so far.  We are entering the heart of the corn and soybean producing region and the infrastructure and processing facilities are evident everywhere.  It is a landscape set up to mass produce and process these two products into everything from corn starch to high fructose corn syrup to biodiesel, ethanol, and grain alcohol, but it does not seem to have much to do with anything like food or land stewardship.
From there we headed down to the Rock Creek Marina and Campground, where we regrouped and met up with our friends and colleagues from Augustana College.  Christopher worked on a minor repair of one of the boats, and we went out to the town of Clinton with students from Augustana to do a neighborhood survey about residential storm water management there.  It was a great opportunity both to get to know the students from Augustana and to talk with local residents about where their water goes and the impact that can have on the river.  After the afternoon in Clinton we headed out to Sabula for pizza at a place called Bombfire.  It was one of the most bizarre and entertaining dining establishments any of us had been in–with a wildly generous crew, a gypsy singer with a voice like a well-tuned chainsaw, and, let's say, "eclectic" decorations (their website, such as it is, will give you some feel for the place).  I'll just say that if you ever have a chance to stop by there for some pizza, do.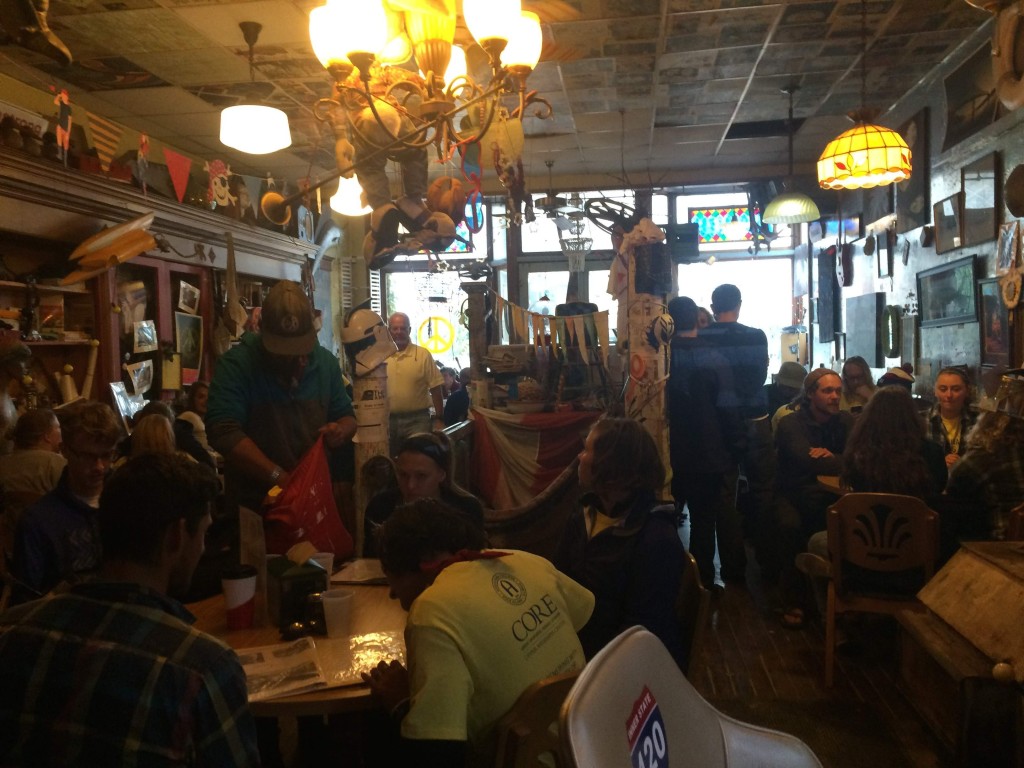 Prof. Reuben Heine, who has been an amazing partner on our trip, and a few students joined us in the canoes for a morning of paddling and some water quality testing and plankton tows.  It is fun to share our experiences with other students and to think about the potential for future collaborations with high schools and colleges all along the river.
Heading down toward the Quad Cities we landed at the rowing club there and were greeted there by our host families who each took a student or two and ferried them back to hot showers, home-cooked meals, and even yoga and pedicures (!) It was another example of the generous hospitality we've experienced along the way and our first chance to sleep in a house since we left.  We enjoyed hosting members of the Augustana community for a cook-out in town the second night, and were also joined by a few through-paddlers (and a couple who were in a sailboat heading south).  Mitchell and Malcolm (aka the Big Muddy Boys) ended up joining us for several class meetings and outings, and their level of interest and excitement about our program was energizing for us as well.  We toured the Moline Water treatment plants and the Army Corps visitor center at Lock & Dam 15 as well.  Reuben took us out to hunt for old survey markers and sites photographed by the Army Corps back in the 1930s in the process of building the lock and dam system.  It was interesting to be part of this new research project on changes in the floodplain in the last 100 years, and we hope to participate again in the future.
Well fed, clean, and with lots of new friends, we left the Quad Cities with Prof. Kelly Kadera from the University of Iowa (and Lily's mother) and ended up in Muscatine at the Lazy Z Trailer Park.  It wasn't a planned stop, but we were slowed down by the winds and another delay at a lock, and were glad to stop for the night, especially since we were joined there by Lily's Dad, who is a wonderful cook.  He made us an amazing paella that night and a hearty egg breakfast the next morning.  Kelly lectured on Elinor Ostrom's work on managing common pool resources and implications for the Mississippi River, and also led the students in some yoga.
We decided to stop in Burlington, IA to have another rest day and get access to the library and coffee shops, and were again surprised to meet up with some local hosts associated with the Leopold Landscape Alliance.

Steve and Jerry gave us a tour of Aldo Leopold's birthplace and childhood home and shared their extensive knowledge of his life and other aspects of local history, including the long, rocky history of relations between the railroad and the city which is the namesake for one of the largest railroads in the country (Burlington Northern Santa Fe [BNSF]).  The public library in Burlington was a great resource as well and we camped out there for two days, holding class in their meeting rooms, and taking advantage of the nice study spaces and internet connection.  We were interviewed for the local paper and radio (this seems to happen in almost every town we stop in).
We have had great luck with rain (almost none since the first week), but the wind has been up almost every day, and more often than not has been blowing up river.  This has made for many challenging and tiring paddle days, although we are all in pretty good shape by now.  We were fortunate to have some good tailwinds one day and hoisted a makeshift sail constructed of rain flies and some pvc pipe we bought in the Quad Cities.  It made for a great afternoon as all four boats rafted up and cruised along at 4 knots with almost no paddling involved.
We have passed Nauvoo, the site of the early Mormon settlement, and through the 1,200 foot long Keokuk lock (a 38 ft. drop) and hydroelectric plant.

It was the first major lock and dam on the river (built in 1908) and a sign of things to come for the rivers of United States, as the next 50 years would see the construction of thousands of huge dams around the country. We see the implications and major alterations the dams have caused on the river and wish we could paddle the river as it existed in the 1800s. But there is still amazing life and resilience in the river, and we see thousands of birds heading south along the flyway.
The night sky, the sunrises and sunsets have been consistently beautiful and we all have become very accustomed to living, eating, studying, and sleeping outside.  We are at the Kibbe Research Station near Warsaw, IL tonight, and sleeping in their dorms.  But for all of us it feels strange to be inside, with electric lights, a kitchen, and even a ping pong table.  A few of us opted to still sleep outside, with a few tents pitched in the yard.  It feels good to be close to the world, connected to it.  We are in tune with the cycles of the day, the feel of the wind, the sound of the birds, the change of the season to a degree that just doesn't happen when we sleep inside.  I know we will miss this when we are done, and for all that we have gained from civilization, there is definitely also a great deal that we have lost.  The simple pleasures of spending the day outside, engaged in physical activity, with a concrete and easily understood goal (paddle downstream, pitch camp, make food, paddle again, don't drown) are a welcome change from the complexities, stresses, and generally sedentary lifestyle back in the city.