Another gap in the blogging, as our schedule continues at its usual frantic pace.  We have been through St. Louis, Memphis, and out on the big river with Quapaw Canoe Company from Clarksdale to Greenville, MS.  I made a quick trip back to Minneapolis to see family and take care of business back on campus and rejoined the group in Memphis.  As I write, we have switched to vans and arrived at the edge of the Gulf of Mexico in the last leg of our journey.  Between the demands of life on the road; the ongoing class schedule of exams, lectures, and papers; and the transitions from canoeing to city living, to bus, and back into canoes; we haven't had much time for extra writing.  A few partial drafts of earlier blogs remain unfinished (I hope to get those wrapped up before too long, but then again, looking at our schedule for the remainder of the trip, I can't make any promises.)
After Memphis we shuttled to Clarksdale, Mississippi in the heart of Blues country, where we met up with John Ruskie and his crew.  They took us out for a wonderful eight days of paddling on the big river, and there is plenty more to say about that.  But at the end of our last paddle I wanted to check in with each of the students as we ended the paddling and camping portion of the trip.  We had been "on the river" for ten weeks at that point, hadn't showered in a week, and had paddled and hauled something like two tons of gear with us the whole way.  We had been roused very early that morning by the Quapaw crew for a breakfast that they had already cooked for us over an open fire, and then cross the river to Greenville before a big storm hit.  It was a frantic morning, packing up damp gear, hauling it down a steep, muddy slope, and then paddling out with (yet another) strong headwind.  The crossing went fine (the storm didn't hit until that night) and we arrived at the landing by 7:30 AM.  We unloaded the three 30-foot canoes that we had traveled in with Quapaw and lugged the gear for the last time up the boat ramp to where the vans would meet us and transit the canoes back to Clarksdale.
Camera-phone in hand I asked each student for a "word of the day," something that captured how they were feeling. I caught them off guard and they had to think of a word to describe their experience at that moment, so students were searching, thinking.  I wanted to capture that moment of coming off the river after 10 weeks before we transitioned back to the "modern world" and took to the vans as we drove south to explore the Bayou country and New Orleans.  What had the river taught them?  How had they changed or grown in that short time?
I ran into Hannah first, who does not like getting her picture taken, but she is always game for whatever we have going. It was still early in the morning and Hannah can be a little grumpy in the morning, but even then, she is a good sport.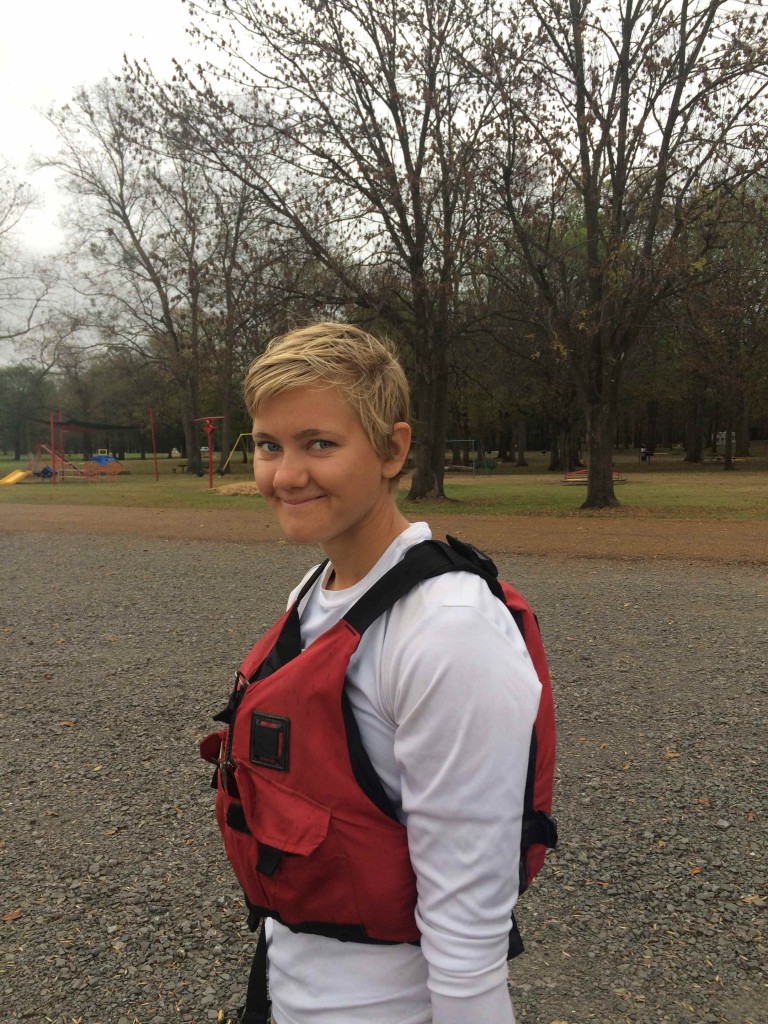 Bobbie, sporting his Augsburg soccer shirt, and his "river beard" smiled as he lugged up a heavy load, declared that the word was "inspiring."  I liked the sentiment, and found it fitting coming from Bobby–someone who is genuine and kind.
Izzie, with a big grin on her face declared that her word was "rad." Back from her 2 week absence (due to an appendectomy) and not yet suffering from the stomach virus that would hit her the next day, she was very happy to have been with us all for the final week of paddling.  She is the "connector" in our family, and it is great to have her back.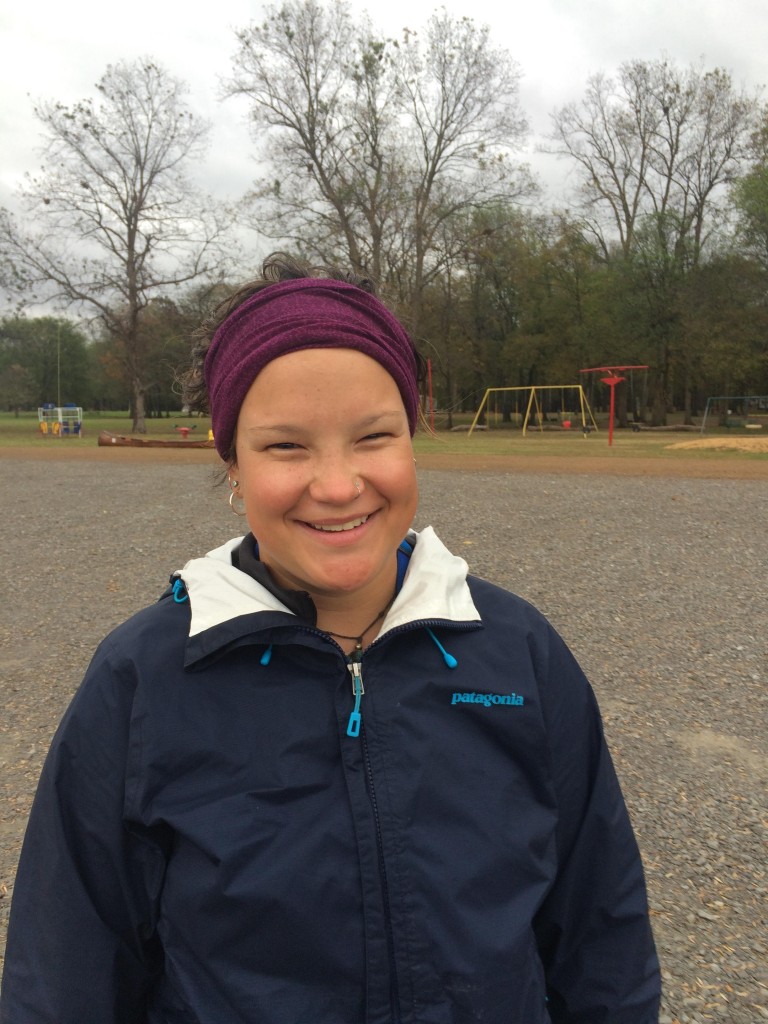 Mike was pleased to be done and paused to pose slightly for the picture, hand on hip.  As I write, neither he nor I can recall his word, but I'm sure it was interesting and probably slightly humorous, and probably related to his favorite topic, light pollution!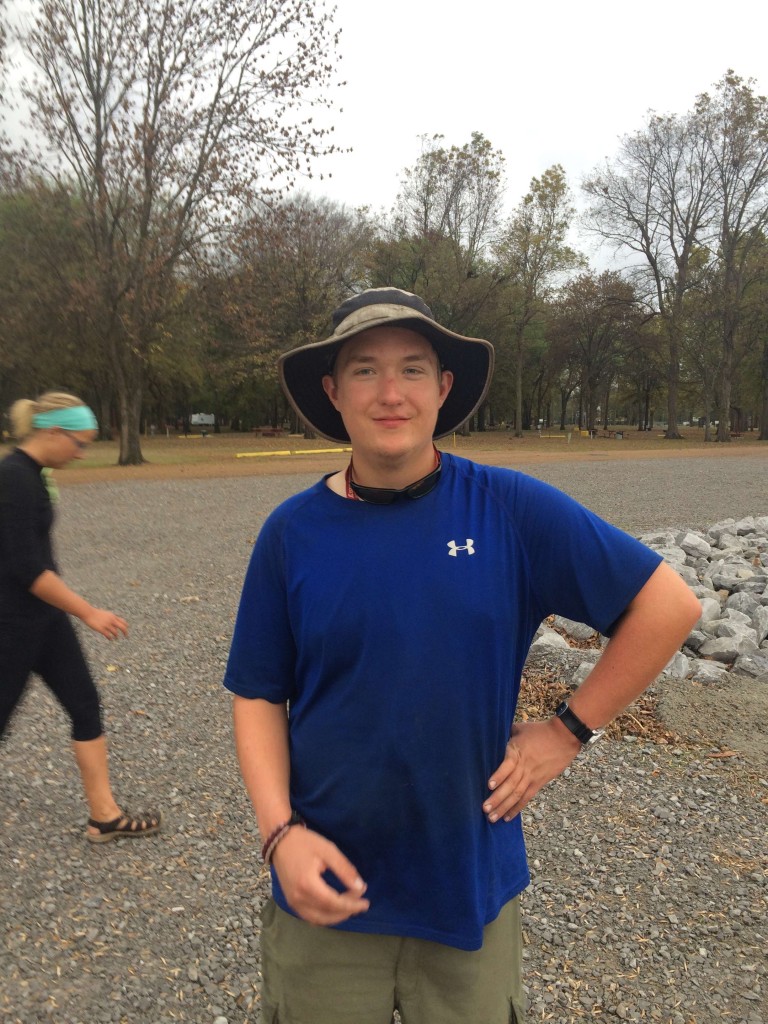 I caught Ricky off guard for once, and so he wasn't he his usual "rapper" pose, and I was so pleased to have succeeded at this that I forgot to get his word.  He only got as far as "uhhh" and I had moved on.  I'm guessing he would have said something wise or mischievous.  One or the other.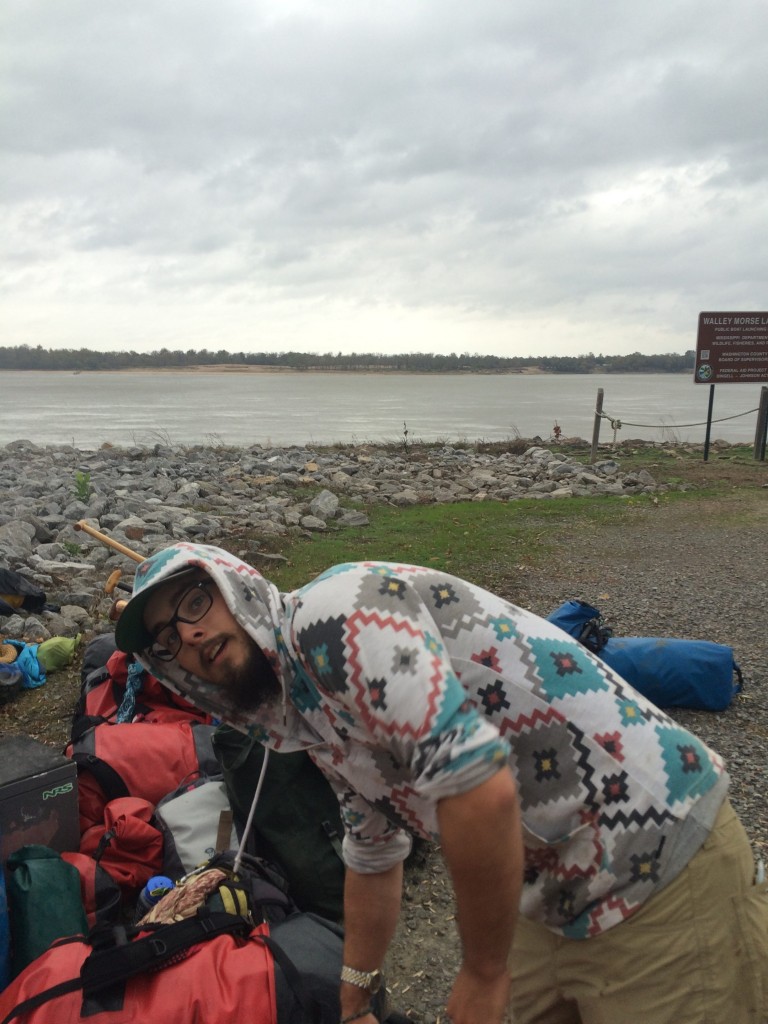 Noah, in his playful, thoughtful way, figured that "water" sort of summed it up, and we certainly have been surrounded, immersed, submerged, inundated, and sated by the waters of and by the Mississippi.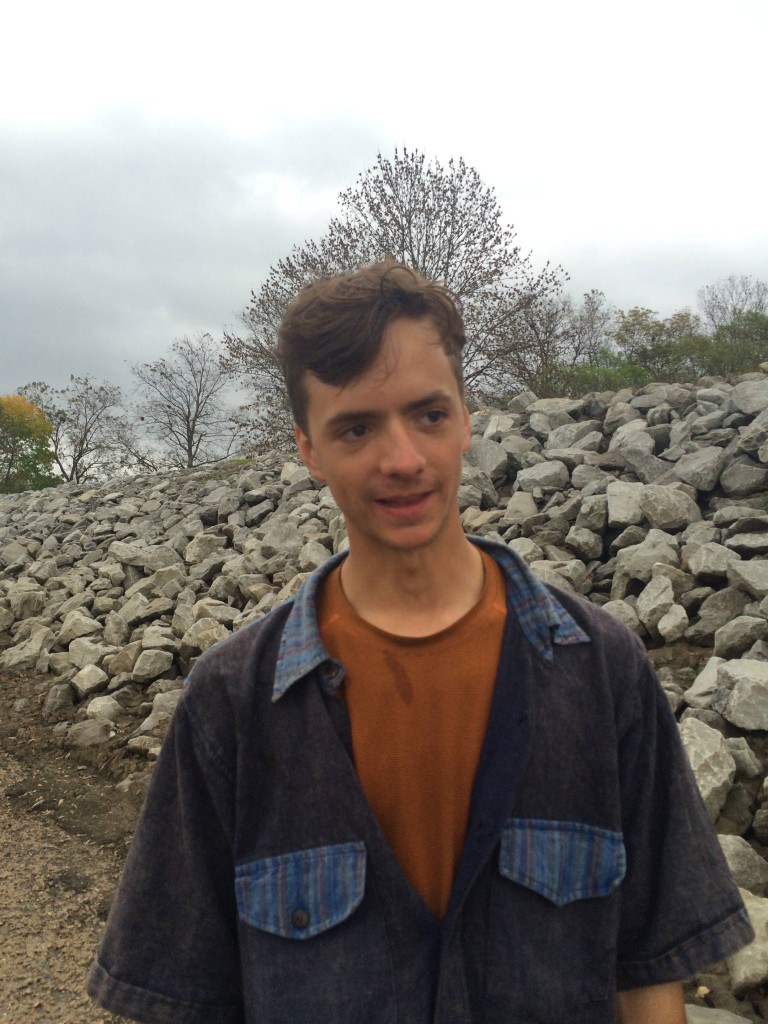 There is a lot of laughter in our group, which is a good thing.  Everyone, despite or perhaps because of the hard labor we were engaged in, smiled when I asked them for their word, and Blair was no exception.  At first she wasn't sure about her word (decisiveness not been her most prominent trait), but she decided on accomplishment (more on that later).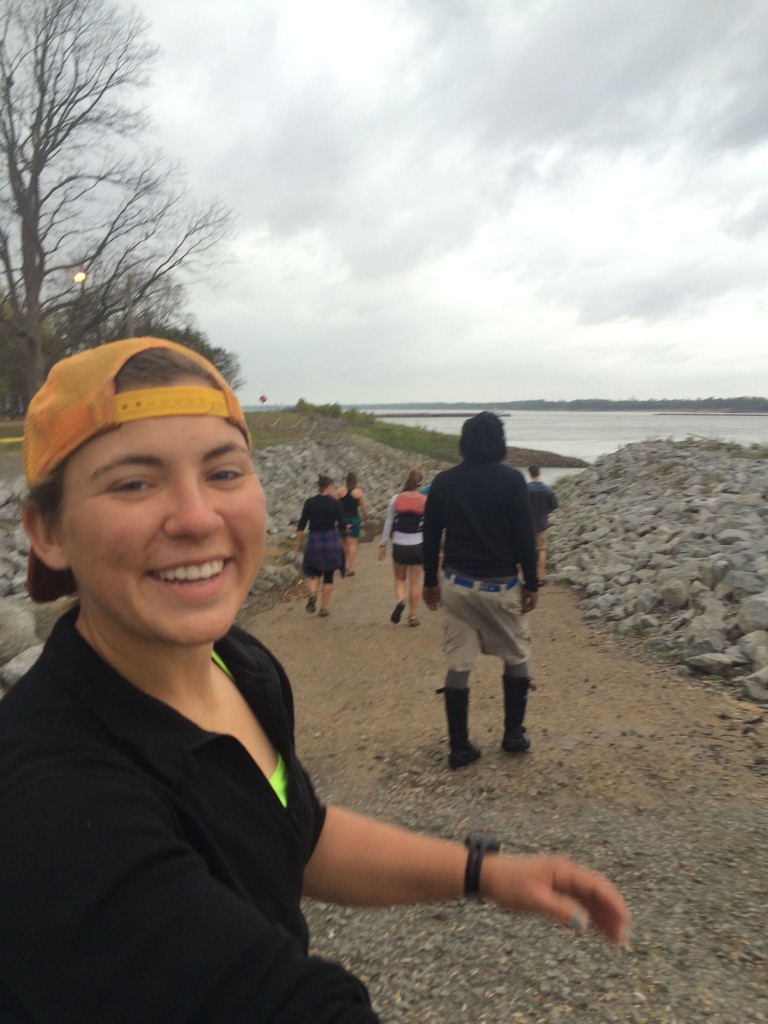 Katie declared very matter-of-factly that we were "finished," and in one sense that was true.  In another way of course, as the river has taught us, there really is no end, just the constant and unceasing flow.  The paddling was done, but a month of the trip remained.  And once the trip was done, there would be the next thing, and so on.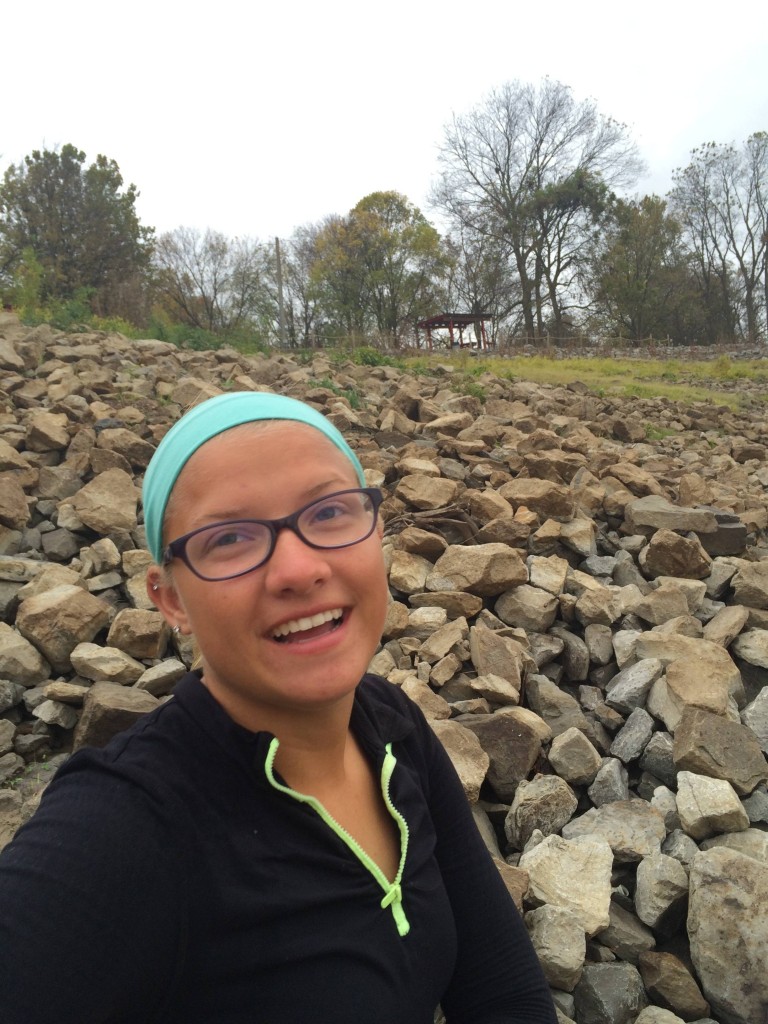 Karl with his loping walk and nod of the head, didn't stop but answered philosophically that the word was "reward." By putting ourselves out there in the world, pushing ourselves, we had been rewarded by, among other things, a real experience of the river and the world.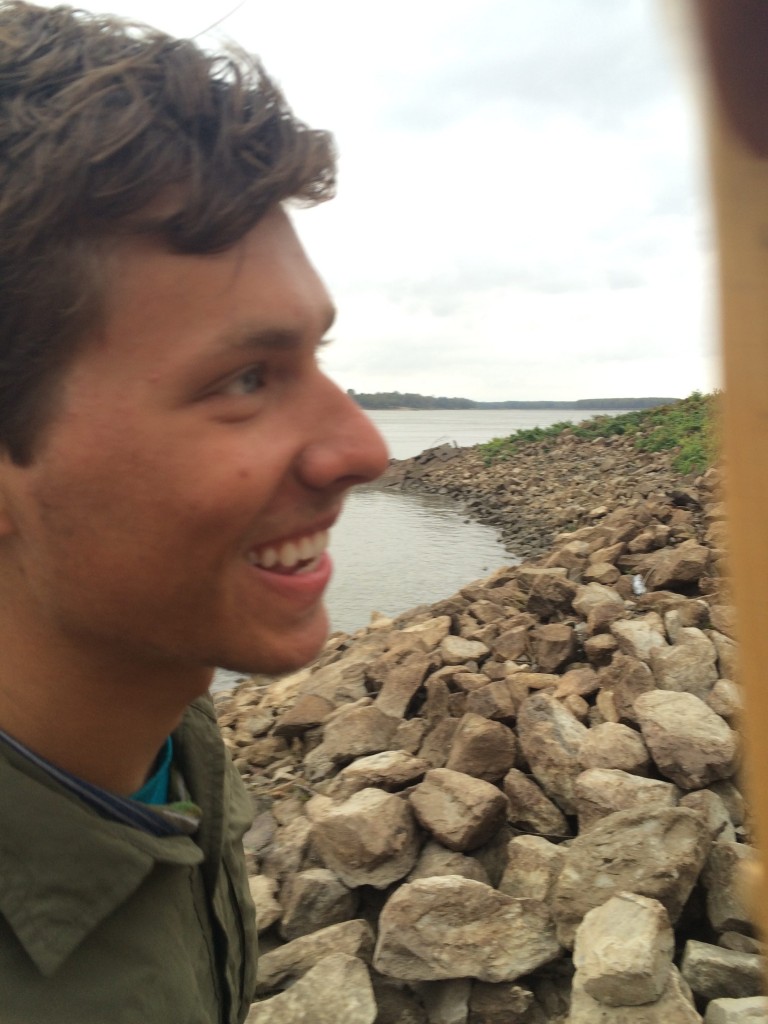 Glen was loaded down with our large coffee pots and heading up the hill as well, and I had to catch him as he passed.  "Awesome" he said, and his smile seemed to reflect that sentiment.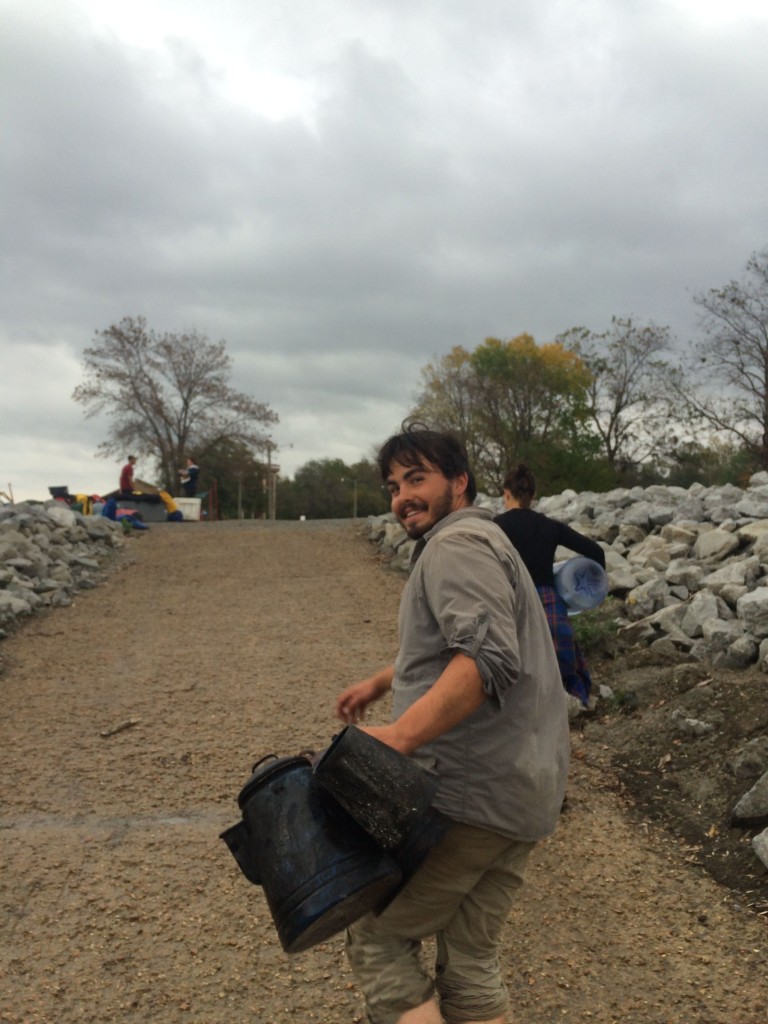 Jubilee, our resident Amazon, thought for a bit (with Blair, per usual, at her side) and decided that the word was "mud"–that thorough mixing of water and soil that is so much a part of the natural river.  We have learned to appreciate and embrace the mud of the river, and perhaps the "mud" of life as well on this trip.  Some lessons there to be sure.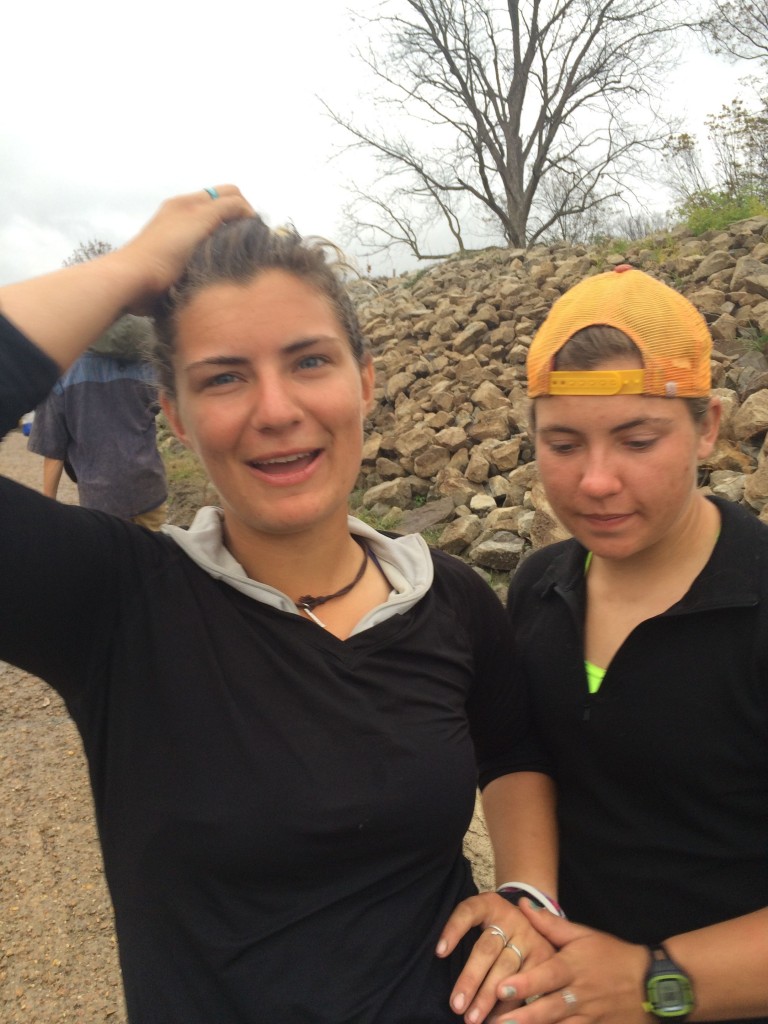 Emily, as exuberant and enthusiastic as ever, said her word was "amazing" and I think we would all say the same of her.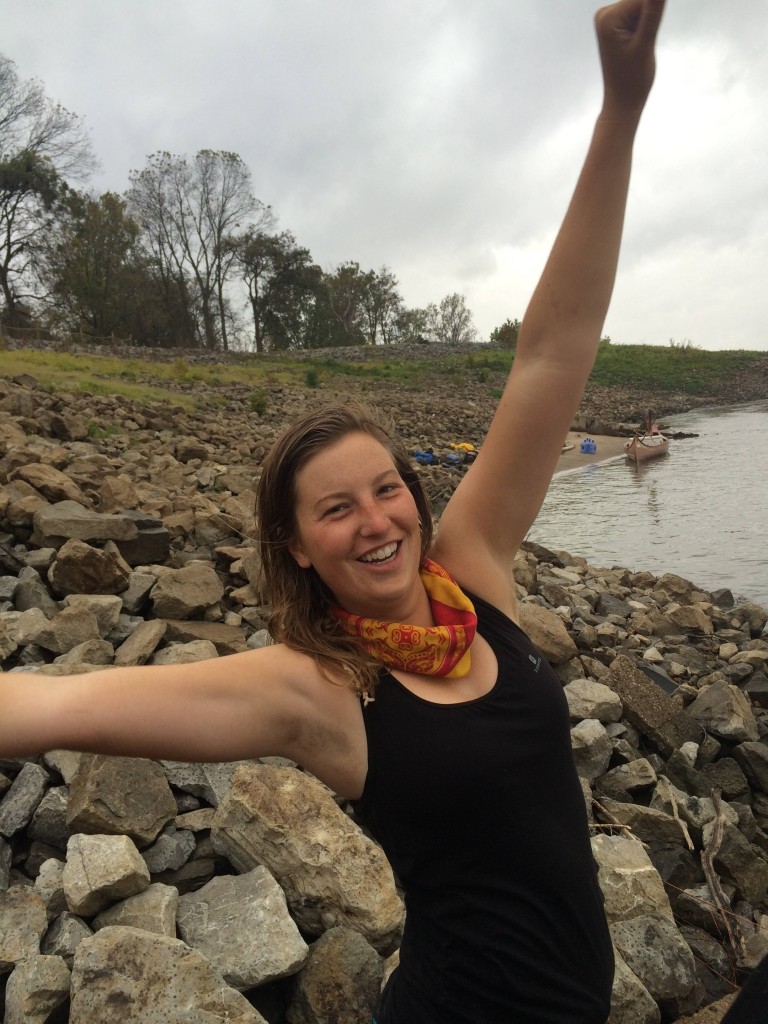 Lily, with a playful shrug and easy laugh, thought that "rain" sort of summed it up.  We had paddled hard and hurried all morning to beat the rain, and had done so.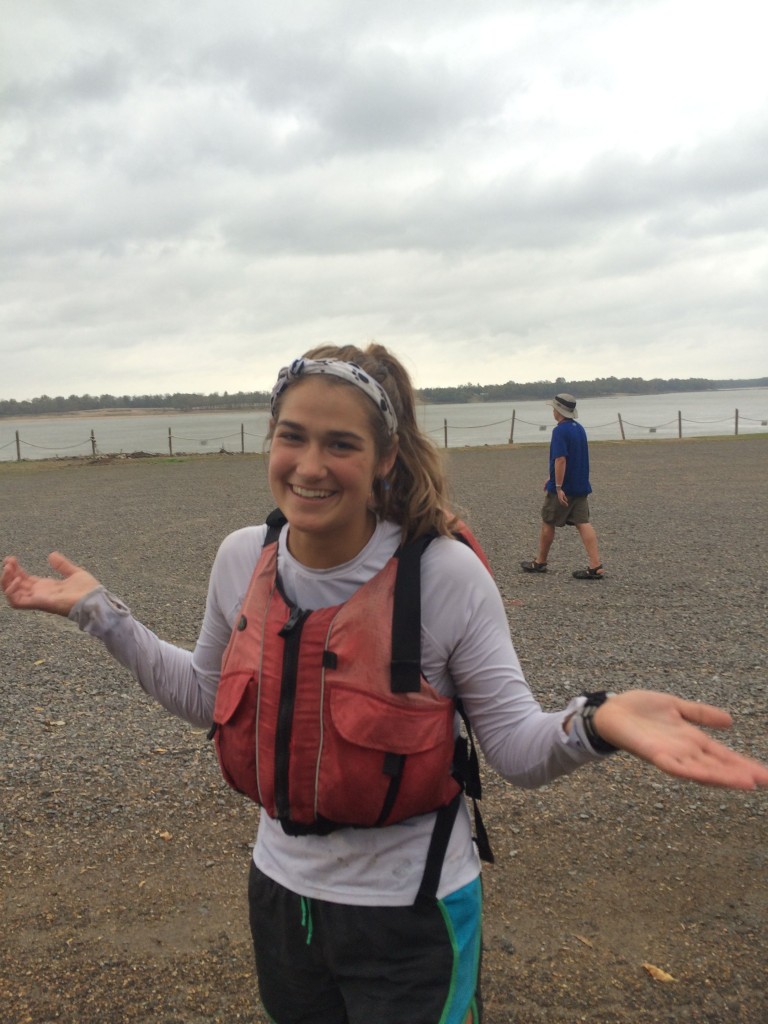 Popeye, one of our guides for Quapaw, was too exhausted to speak, and lay prostrate but content on the grass, having expended his last ounce of energy for the trip. He had that nickname for a reason, but even the strongest have to rest every once in awhile.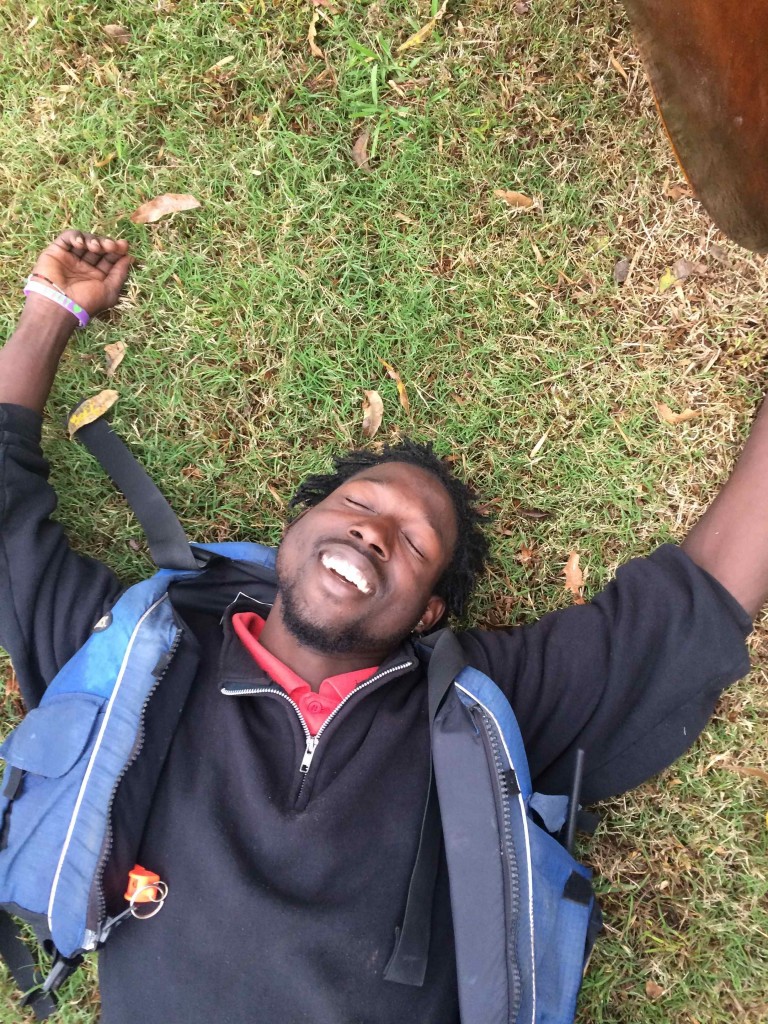 Natasha didn't want her picture taken, and at first wouldn't answer, but at last she agreed, and her word was, like Blair, accomplishment.  I would agree.  The pictures seem to reflect this–that everyone on the trip, despite how early we had risen, and how tired we all were, felt happy.  Part of this was, I think, the fact that we all did sense that we had just accomplished something significant, taken on a large challenge, and had an experience that would stay with them for the rest of their lives.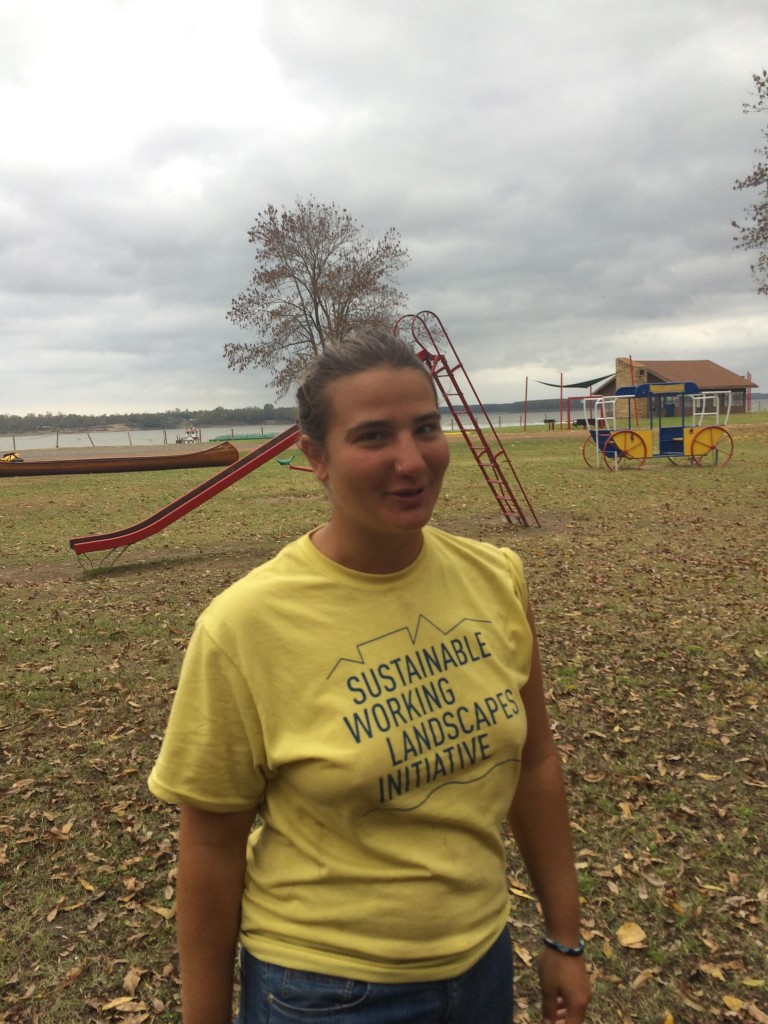 All-in-all a contented group, who, with their two professors, and countless other support people, had paddled around 750 miles of the Mississippi River, carrying all their gear with them the whole way, seeing some amazing landscapes, meeting some wonderful people, and learning about what it means to try to live a good life in this world today.