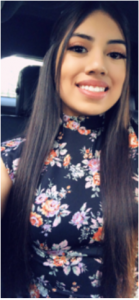 My name is Yamile Hernandez, I am a junior pursuing a degree in Finance. I came into Augsburg as a transfer student my sophomore year. I was completely new to campus and to the city, I'm from a small town called Northfield, so it was a bit nerve racking moving to the cities, but I was excited for the change. I wanted to make sure I got involved in programs that allowed me to engage with the community that I now live in. That is exactly what I found and was able to do with Campus Kitchen. 
I started working with Campus Kitchen in fall of 2019. Right off the bat I felt very welcomed by all the staff members, it didn't take long for me to become comfortable with them. Through Campus Kitchen I was able to engage with other students, staff, and community members. I started off with produce distribution, which was a weekly event where we would set up in Christenson Center with boxes of produce that students and staff could come choose from. I enjoyed this very much. It was always nice to hear about the new recipes folks were going to try, or see their excitement when we had a fruit they had been craving. 
Not only was I able to engage with the Augsburg community but also the community outside of campus. One example is delivering meals to seniors at Ebenezer Tower apartments. We would start off by packaging meals from surplus dining hall food, we would then head over to Ebenezer and go door to door delivering their meals. This would always take me awhile because I loved hearing about the residents and their day or a new story they had to tell me, and I could never miss heading out on the balcony once I reached the 15th floor and just enjoy the view for a second. This is definitely one of the places I miss most. 
Due to covid we had to change and adjust a lot of ways we used to distribute, but our mission and goal to give to the community never changed. We are still able to give groceries to students such as non-perishable goods, produce, hygiene products and more. We no longer get the interaction with students, it is now an order online and delivery system, but it still feels just as good knowing that we are helping in any way possible. These deliveries also go to those in Ebenezer. Although it is very different I still enjoy the work I do, it allows me to get out and move around after sitting on my laptop all day, while still being engaged with the community from a distance.