Last night, Governor Walz signed the 100% Clean Energy by 2040 bill into law. It requires Minnesota utilities to provide 100% carbon-free electricity to customers by 2040 taking great steps to combat climate change and expand clean energy jobs in the state. This is an exciting moment for Minnesota in furthering its climate action goals and has great potential to expedite  Augsburg's climate mitigation efforts. 
In 2007, Augsburg University became a charter signatory to the Second Nature President's Climate Leadership Commitment to actively reduce its carbon footprint and set goals to become carbon neutral. Over the years, the Augsburg community has advanced these goals and been a quiet leader in this work, particularly in regards to electricity generation and consumption. In 2018, Augsburg began to purchase solar offsets for its energy consumption, helping its utility company Xcel Energy further prioritize carbon-free electricity sources. More recently, Augsburg has also worked to lower its electricity consumption through the campus-wide installation of LED light bulbs. Students understand the urgency, so through Day Student Government climate resolutions, they have championed and lobbied for Augsburg to generate its own renewable energy through the installation of solar panels onsite.
Although we as a community are advancing clean energy usage and lowering our energy consumption, Augsburg's carbon neutrality goals cannot be achieved in isolation nor on our own. Utility companies like Xcel Energy, play a vital role in Augsburg's and Minnesota's shift to carbon-free energy sources. We at Augsburg, especially our students, know this. Many on the Environmental Stewardship team have been champions for climate legislation through marches at the State Capitol, discussions with elected officials like Attorney General Keith Ellison, and community organizing work with community-based groups like ISAIAH's Young Adult Coalition. Last week, senior and Environmental Studies major, Zoe Barany, was a co-author for this Commentary piece in the Minnesota Spokesman Recorder where she and peers from universities across the state advocated for the very 100% Clean Energy legislation that Governor Walz signed into law yesterday evening.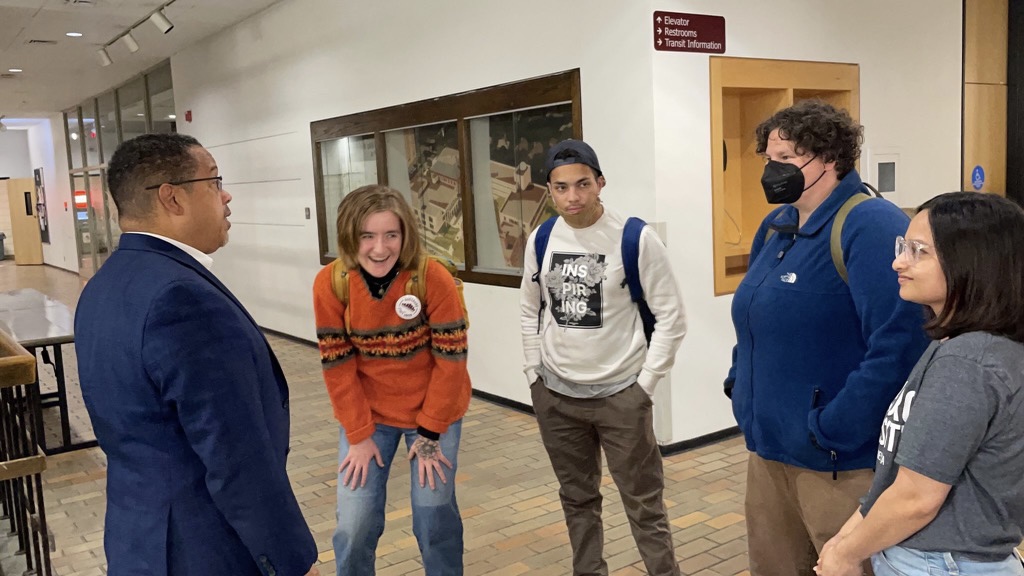 In 2021, 51% of Xcel Energy's electricity generation came from fossil fuels, like coal and natural gas. With this legislation, 100% of Xcel's electricity, and thus Augsburg's electricity, will be generated from carbon-free sources like wind and solar! As our state sees less and less ice on its lakes and more rain in January, this is exciting news for our state and thus our university. These climate mitigation changes can't come fast enough!