For years, Taunya Tinsley '90 had used basic counseling skills in the field of higher education (admissions, career, academic, administrative, and athletic counseling), but it wasn't till she lost her brother Ethan suddenly and traumatically that the "light came on." She was struck by the new awareness that God was calling her to the field of professional counseling as part of her ministry, both inside and outside the four walls of her church.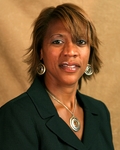 Now, as professional counselor and owner of Transitions Counseling Services and Life Skills Program, in Pittsburgh, Penn., she derives deep satisfaction from enabling clients to recognize and/or develop their skills and strategies to successfully manage life transitions, and to become increasingly aware that their expertise in doing so in one area of life may well be transportable to another arena as well. Tinsley specializes in organizational development, multicultural training, spiritual and Christian counseling, sports counseling, and development through sports, and she is committed to the psychosocial development of the whole person.
One client describes a time when she was "fragile, scared…no, petrified" during the bleakest time in her life, then sought counseling help from Tinsley. Now, she sees each new day as a testimonial that counseling is a vital tool. Without Tinsley's counseling, she says, she "would be dead—period." Another client feels that Tinsley's counseling helped her look deep inside herself and recognize issues she had suppressed, and then provided strategies to face them, "returning me back to myself." Tinsley's help gave her more confidence to handle what life sends her way.
In addition to workshops, presentations, and clinical counseling work with individuals and groups, Tinsley is a professor at California University, in California, Penn., where she is also program coordinator for Graduate Certification in Sports Counseling. She says there are numerous benefits to being both a counselor educator and a clinician, as each experience informs the other.
As an Augsburg student, Tinsley found a mentor and spiritual mother in M. Anita Gay Hawthorne, former director of Pan-Afrikan Student Services at Augsburg. Her guidance and encouragement were steadfast, even after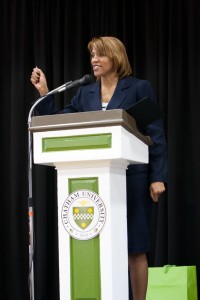 Tinsley's graduation, and Tinsley recalls accompanying the Iowa Swim Team to Minnesota (as their athletic academic advisor) in November 1997, primarily to seek Hawthorne's advice on a job opening at the University of Pittsburgh. With strong encouragement from her mentor, Tinsley accepted the offer in December 1997—an excellent decision she sees as pivotal in her career. A month after their visit, Hawthorne passed away, and Tinsley was especially grateful she had made the trip.
In the early '90s, Tinsley was on staff at Augsburg, as women's athletic recruiter and volleyball coach in '92, and as an admissions counselor and coordinator of multicultural recruitment for two years before that, where she worked with then-admissions director Sally Daniels Herron '79, currently director of family and constituent relations. "I love her tremendously…and would not be where I am in my career had it not been for Sally in my life." They worked together to support the integration of diverse cultures in the admissions process, a clear step in the pathway to her current work.
Currently, Tinsley is enrolled at United Theological Seminary in the Doctor of Ministry program, with a focus in sports chaplaincy. Find out more about her counseling business at www.transitionsaalp.com.