In her birthplace of Cartagena, Colombia, Eloisa Echavez '94, MEA '98 started teaching elementary students when she was only 19. Soon after, she joined five others to establish an elementary school in a low-income area there, and her leadership skills became evident. When she began her studies at Augsburg in 1990, having been in the U.S. for only two years, she approached then-President Charles S. Anderson about the need for a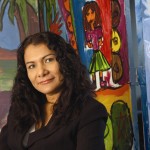 student support program for Latino students. He agreed and asked her to create and direct it since "it was [her] idea." She did so for six years, while also serving as the teachers-of-color program coordinator and multicultural recruitment coordinator for the admissions office. After completing her MAE, she and her husband were also busy raising their son, now 19.
In 1998, she was approached by the board president of Minneapolis-based La Oportunidad to serve as the nonprofit's director. Though she "absolutely loves Augsburg," she knew it was the right decision to leave Augsburg and accept the offer to serve a broader Latino population. She has served as executive director for 15 years.
Since its inception in 1987, when the organization's focus was on domestic abuse, La Oportunidad has continued to broaden the range of programs it offers, responding to identified needs in the community and assisting low-income Latinos of all ages to achieve educational success, improve financial stability, and maintain supportive, peaceful families. Four core programs are the Children's Program, the Youth and Young Professionals Programs, the Parenting Program, and the Domestic Violence Program (which helped over 1,000 Latinos in 2013). Their cable TV program "En Familia" ("In the Family") has reached over 20,000 individuals.
The organization partners on a variety of projects with the Minneapolis Public Schools, community agencies, media organizations, and other nonprofits. It has collaborated for five years with Augsburg's Latino Student Services program, which hosts La Oportunidad's Latino Youth Peace & Leadership Conference, an annual all-day event held at Augsburg that helps Latino middle and high school students learn to share peace through leadership. Most recently, it has also been collaborating with Augsburg's Sabo Center for Citizenship & Learning, as well as other college departments, to recruit and place volunteers and interns at La Oportunidad.
In addition to Echavez, La Oportunidad has been blessed with the service of three other Auggies, all serving on the board: Alex Gonzalez, Brian Grande, and Maria (Ramirez) Johnson.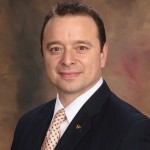 Alex Gonzalez '90, a native of South Minneapolis, currently serves as an advisory board member, after having served from 2005 to 2013 as a regular board member. He owns a financial planning practice with Thrivent Financial in Bloomington, Minn., along with two business partners, one of whom is Auggie Mark Morton '89. In addition to his work on La Oportunidad's board, Gonzalez also serves on the Augsburg Board of Regents (since 2008), and has assisted several other nonprofits, either by volunteering or by helping them manage their endowments. He and his wife Simoné '91 (whom he met at Augsburg) have three sons: Jake, Karsten (who just toured Augsburg), and Joshua.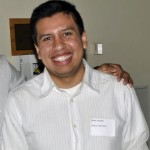 Brian Grande '11, a data analyst associate for the Community Health Department at Fairview Health Services, moved with his family to Minnesota from El Salvador in 1997. His first involvement with La Oportunidad was at age eight, when he attended the El Camino children's after-school program. That program not only eased his transition into a new culture, but taught him the importance of obtaining an education and maintaining family values and traditions. His first-hand experience of El Camino provides useful insight in the discussions at monthly board meetings. Grande grew up in North and South Minneapolis and graduated from Roosevelt High. A volunteer in his community, he recently assisted at La Oportunidad's 2014 Latino Youth Peace and Leadership Conference.
Maria (Ramirez) Johnson '94 has served on La Oportunidad's board for 15 years. As an Augsburg student, she helped establish and was actively involved in Augsburg's Latino Student Association, which was part of the Latino Student Services program Echavez created in 1992. After earning her elementary education degree at Augsburg,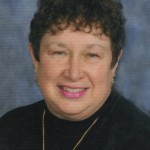 Johnson taught in the Minneapolis Public Schools for many years, retiring as a bilingual (English/Spanish) teacher. She and her husband have three children and nine grandchildren.
Johnson, Gonzalez, and Echavez have all served as mentors in Augsburg's Scholastic Connections program, designed to assist high-achieving undergraduate students of color to succeed in completing their undergraduate degree and prepare them to be engaged, successful citizens of the world.
As La Oportunidad continues to fulfill its vision of creating a community in which Latinos (whether long-term residents or new arrivals) thrive and contribute to the strength of the greater community, the greatest challenge it faces is funding, and the search for potential funding sources and individual donations is ongoing. To learn more, or to find avenues for involvement, visit www.oportunidad.org.