The Augsburg Associates celebrate 30 years of fundraising and fellowship during Wednesday of Homecoming week with their annual meeting and afternoon tea. Mistress of Ceremonies Marty Stortz, Bernhard M. Christensen Professor of Religion & Vocation, will speak on the theme of "Women Who Serve." The event is open to all.
Augsburg Associates, 90 members strong, serve the college and the people they assist by hosting estate sales. For their efforts in organizing, cleaning, pricing, and selling the household items, the Associates receive one-third of the sale proceeds. With three to six sales per year, they generate good will and resources, while raising funds to provide scholarships to Augsburg students.
In addition to the funds raised through estate sales and Associate membership fees, the Associates raise funds by annually hosting the Velkommen Jul brunch and Scandinavian boutique the first weekend in Advent, as well as a tea in the spring.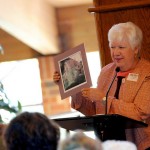 In 1996, the Associates set up an endowed scholarship fund. Earnings from the endowment provide a scholarship each year, and additional dollars raised throughout the year sponsor the Christensen Scholars.
Associates are graduates and/or friends of the College who may be family members of graduates, faculty, or staff, or who are simply impressed by the spirit of giving and want to be a part of it.
Social time begins on Wednesday, September 24, at 1:30 p.m., followed by the annual business meeting and afternoon tea at 2 p.m. in Hoversten Chapel and Arnold Atrium. Register for this event on the Homecoming Registration page by Sept. 12.