January 3-15, 2017
English Professor Kathy Swanson and her husband, Jack, will lead this educational trip through Thailand and Cambodia.
You'll land in Bangkok, Thailand, and tour the Grand Palace, visit the temple at Wat Po (the Reclining Buddha), and shop for tropical produce and sample local cuisine cooked on boats at a floating market. From there you'll continue to Chiang Mai to ride elephants, perfect your culinary skills with a cooking class, and make a difference in children's lives volunteering at a local orphanage. This exotic trip will conclude in Siem Reap, Cambodia, where you'll be awestruck by Angkor Wat, the largest religious monument in the world.
Don't miss this thoughtful and educational tour customized specifically for Augsburg alumni, parents, and friends! For more information, contact Katie Koch at kochk@augsburg.edu.
Find a full itinerary and more details about the Thailand/Cambodia trip here.
---
Host
Kathy Swanson
Augsburg English Professor Kathy Swanson and her husband, Jack, are excited to share the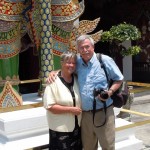 beauty and culture of Thailand with Augsburg alumni and friends! Both Kathy and Jack are former Peace Corps volunteers who taught English to Thai students in a rural fishing village many, many years ago. Since then, they have led five trips to Thailand with Augsburg students, and have returned a few additional times with family. Kathy and Jack both speak Thai, are very familiar with the country, and are comfortable navigating this beautiful and exotic place. Jack is a graduate of the University of Minnesota with a BA in art history and MFA in studio art. Kathy has a BA, MA, and PhD in English and has just finished her thirtieth year of teaching at Augsburg.