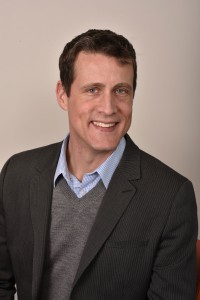 Growing up with an entrepreneurial father planted the seed in his mind that running his own business could make a lot of sense—and was doable. But the idea really took root in his adult life, when Frank Grazzini '96 realized, after 12 years of working for larger corporations, that this work wasn't a very good fit for him. He'd much rather create something new than fine-tune an existing structure. So he switched gears. In fact, starting a new business seems to have become a way of life for him, and he sees himself as a serial entrepreneur of sorts. He is now involved in his fourth early-stage business (his third technology start-up), with the potential to scale into a much larger business. The down side? He'd much rather start a new remodeling project than mow the grass!
At Prevent Biometrics, his latest venture, Grazzini is working with two other co-founders and the Cleveland Clinic to commercialize a groundbreaking technology to monitor and measure the force of head impacts to athletes (both male and female) in sports such as football, lacrosse, hockey, and soccer. He says that if a concussion is treated early, it usually results in a full recovery; if not, there is a much greater risk the athlete will suffer permanent neurological damage, even CTE (chronic traumatic encephalopathy) or Second Impact Syndrome, which can cause death.
In spite of the Centers for Disease Control and Prevention's estimate that over half of all sports-related concussions in the U.S. (approximately 3.8 million each year) are never identified, response has been slow. But now, there finally seems to be a growing awareness that the problem must be taken seriously, as indicated by laws in all 50 states, as well as recent statements by professional sports league representatives. Though some would make the case for ending football altogether (most notably, Dr. Bennet Omalu, whose exposure of the widespread consequences of NFL injuries was dramatized in the recent film, Concussion), Grazzini believes that better monitoring of injuries, plus a few changes to the rules, would likely be sufficient to keep football a healthy sport for kids.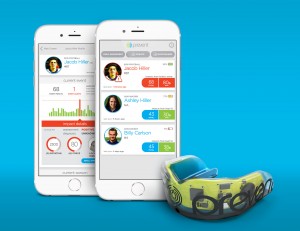 Prevent's head-impact monitor, currently being tested by athletes, has been in development for six years and is expected to be officially released for sale in December 2016, though various inquiries to the company have already been made by researchers in the military and the NCAA for earlier sales.
Unable to deny the moniker of "business nerd," Grazzini is energized by not only the strategy and process of trying to build a competitive business, but by bringing a new product to market. It can be done, he says, in a way that generates a healthy profit (essential for outside investors), while also operating as a good corporate citizen (including paying a "living wage" to your employees, mitigating the environmental impact of your products, and working with suppliers who share your values).
When asked about lessons learned as an entrepreneur, he cites first of all, the actual process of starting a business–all that one learns day to day in that experience. Secondly, he mentions the importance of having spent time with other entrepreneurs, both those who had had a lot of success, and those who were working through some of the same challenges he had encountered. He also stresses the importance of joining organizations filled with other entrepreneurs trying to build new companies. Regular opportunities to learn from, and share ideas with, peers and mentors are important as these connections give you access not only to the experience of others, but to informal best practices that can be applied to your own venture as well.
If there's one thing Grazzini wishes he had done differently before starting his first business, it is to have spent time learning from other entrepreneurs who were willing to critique his ideas and challenge his plan. He thinks Augsburg is in a strong position to offer leadership to budding entrepreneurs–certainly in traditional classroom education, but also by connecting entrepreneurially minded students with alumni who've launched their own ventures. His advice to any alumni considering starting their own venture? First, talk to as many experienced entrepreneurs as you can. Second, keep your "day job" as long as possible before jumping into your venture full-time. Finally, if you have an idea, don't be afraid to try it, especially with some outside advice.
Grazzini and his wife, Rebecca, live in South Minneapolis with their two cats. He says that since they have no children, he has filled his "free time" with volunteer work, including membership on various boards, such as the Augsburg Alumni Board and the nonprofit Soo Visual Arts Center in LynLake. He is a big fan of modern art and music, and an avid biker—as long as it's at least 40 degrees outside.
—by Cheryl Crockett '89