Week 4: Paul and Maxine Fridlund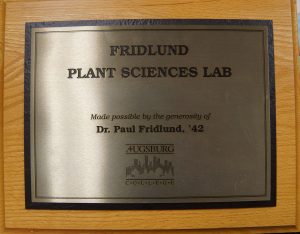 Paul and his wife Maxine Fridlund were important donors to "Old Science Hall".Paul graduated from Augsburg College with a degree in Chemistry in 1942 and then served four years at sea during World War II as a lieutenant with the U.S. Navy. After his service, Paul returned to education and received his Master of Science in 1952 shortly followed by his Doctorate of Philosophy in 1954, both from the University of Minnesota. He achieved distinction throughout his career and research in plant pathology, which included international work and travel to many countries such as South Africa, Australia, and Romania.  He was a long time faculty member at Washington State University and later in life he used his location to his advantage by writing several historical books about Prosser, Washington where he lived  when he sadly passed away in 2000.
As donors to Augsburg College, Paul and Maxine not only started a scholarship endowment for biology majors, but Paul's financial gift and gift of equipment to the biology department gave students a unique opportunity to pursue and study plant biology at an earlier stage in their academic careers than most other biology students. A plaque honoring this financial contribution to Old Science is still standing and is located near room 214. Paul eventually received Augsburg's Distinguished Alumni Award in 1980 in recognition of significant achievement in his vocation, for outstanding contribution to church and community, and for a life that exemplified both the ideals and mission of Augsburg College. While the records don't show much about Maxine's accomplishments, we remember them both today for their generosity.
If you are interested in more of Paul Fridlund's work with plant biology, he also edited a book called "Virus and viruslike diseases of pome fruits and simulating noninfectious disorders" which you can learn more about here.