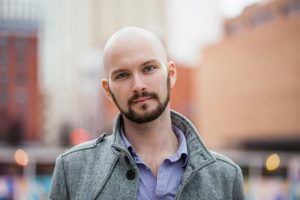 Stewart Van Cleve is a librarian and digital archivist at Augsburg University's Lindell Library, where he is responsible for Augsburg's Digital Archives (library.augsburg.edu/archives). His passion for archiving began while studying toward a degree in Urban Studies at the University of Minnesota when he had a student position working with the renowned Tretter Collection in GLBT Studies. The Tretter Collection is a vast collection of books, photographs, films, and other historical artifacts that Van Cleve calls "one of the most comprehensive accounts of international queer history in the world." After receiving his master's in urban studies from Portland State University, Van Cleve decided to pursue a master's degree in library and information science at St. Catherine University, in St. Paul.
In 2012, Van Cleve published his book, Land of 10,000 Loves: A History of Queer Minnesota, a wide-ranging illustrated history of queer life in Minnesota. The book contains more than 120 historical essays exploring the earliest evidence of queer life in Minnesota before the Second World War—from Oscar Wilde's visit to Minnesota, riverfront vice districts, protest and parade sites, bars, 1970s collectives, institutions, public spaces, and private homes. This rich history is illustrated in more than 130 examples, including images of annual "pride guides," a number of archival photographs, and advertisements from local queer bars.
Having worked at Augsburg for nearly a year, Van Cleve says he loves the "student-centric" nature of the University. On Thursday, April 5, he will be joining the Augsburg Alumni office at its Auggies in the City: Kinky Boots, pre-theater event to discuss his book, and to provide more details on the history of queer life in Minnesota.
For more information on Augsburg alumni events please visit www.augsburg.edu/alumni/events.