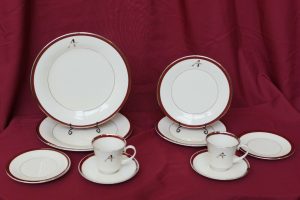 Enjoy a piece of Augsburg history in your home! Institutional Advancement is hosting an auction for classic Augsburg A presidential dinnerware sets on eBay. All proceeds from this charity auction will go to the Sesquicentennial Scholarship. This scholarship will help eliminate financial barriers and launch the next generation of leaders at Augsburg.
This elegant china was once used for dinner parties and events hosted by the president at the Augsburg House – it has since been retired due to our name-change and rebranding, which changed the look of the "A" icon that appears on most of the dinnerware. Each item has been professionally packaged and can be shipped or picked up from campus once the auction ends at midnight on March 1.
Please contact Hannah Walsh if you have any questions at walsh@augsburg.edu or 612-330-1098.