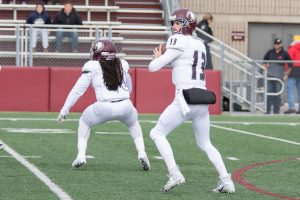 You are invited to join Auggie Football for a final practice/scrimmage before the Auggies International Spring Game.
The 2019 spring semester is a unique one for the Augsburg football team because it will culminate with international travel to face the Winnipeg Rifles on Sunday, May 5, at 11 a.m. Before that game takes place, the team will complete their NCAA allotment of padded practices, which is what really makes this situation unique.
In a normal spring semester, NCAA Division III football universities are not permitted to conduct padded practices. All practice must be in shorts and a t-shirt. No contact at all is permitted. The only time a provision is made is if an institution is playing an international spring game. Thus, Augsburg football is one of very few Division III teams that will get an opportunity to practice in full pads this spring.
Our final practice/scrimmage will be on Saturday, April 27, at 1 p.m. There is an open invitation for any alumni (including those who did not play football or any sport) to come and enjoy the scrimmage. We also plan on inviting recruits and parents of our current student-athletes. It will be a great day with a lot of energy and excitement in the air. Please join us for this unique opportunity!
Schedule of Events:
12:30: Arrival and Check-in
1:00: Fast Pace & High Energy-Practice Starts (Fast start – OL vs DL 1v1/Skill 1v1 catch & shake)
2:30: Game Ends
Please register for this event so we know how many to expect. If you have any question, please contact Tunde Agboke via email at Agboke@Augsburg.edu