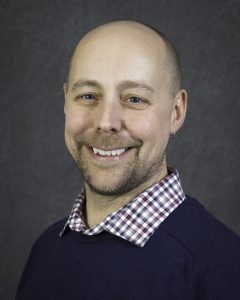 Rowles Named New Head for State's HIV Services
Darin Rowles '04, '15 (MSW) has worked in the HIV (human immunodeficiency virus) sector since 1995, a time when an HIV diagnosis was a death sentence. He worked very closely with many people whose lives were coming to an end due to HIV. But in 1995, the first advanced HIV treatment became available—"a game changer in HIV," says Rowles. Things have changed dramatically since then, and he now has a new opportunity to spread the hopefulness.
On Halloween 2018, Rowles stepped into a new position that will bring to bear his 23+ years of experience in direct-service and management of HIV—and to a much wider audience. As Manager of HIV Services for the Minnesota Department of Human Services (DHS), Rowles now oversees the administration of numerous services for people living with HIV, but on a statewide basis. The work includes the Ryan White HIV/AIDS Program Part B and the AIDS Drug Assistance Program (ADAP).
Ending the Epidemic
Rowles says we now have the treatment options and knowledge needed to end the HIV epidemic. Though there is still no cure or vaccine, two major assets have recently been added to the HIV toolbox.
The first is a concept known as "U=U" (undetectable equals untransmittable), based on research that has shown conclusively that people living with HIV who are able to engage in medical care can maintain an undetectable HIV viral load, thereby preventing them from passing on the virus to sexual partners.
The second new tool is PrEP (Pre-Exposure Prophylaxis), a daily medication for those not living with HIV who want to remain HIV-negative. Rowles says that now we also know how to provide HIV treatments that enhance quality of life for those already living with the virus and prevent transmission to others.
But Rowles acknowledges that some of the greatest HIV challenges we have today are with young people, who are both less likely to use preventive measures like PrEP, and less likely to have the resources to manage their HIV and maintain an undetectable viral load. He knows that much work remains to be done in the HIV sector to raise awareness. In Minnesota alone, there are about 300 new HIV infections each year. In 2017, about a third of the 284 new cases were individuals under age 30, and about one-fifth were 24 or younger. The majority of those 24 or younger were male-identified, and almost all of these identified sex with another male-identified person as their primary risk.
Rowles' work is cut out for him, and he is excited about this opportunity to gain experience in administering service to the public sector. His new role will include supervising, mentoring, and teaching emerging social work professionals, as well as overseeing the administration of contracted support services, insurance assistance, medication-access programs, capacity-building programs, and policy initiatives–plus monitoring compliance with federal funding, and activities that engage the community.
Previously, much of Rowles' work involved relating one-on-one to people living with the disease. From 2002 to 2018, he worked in multiple roles with MAP (the Minnesota AIDS Project, now called JustUs Health). In addition, he has done focused worked with people living with serious and persistent mental health issues in residential settings. For five years, he served on the Minnesota HIV Services Planning Council and was an active part of the community planning process in allocating federal funding for HIV services within Minnesota. Currently, he serves on the Board of Directors for the Professional Association of Social Workers in HIV/AIDS.
Minnesotan, Through and Through
Rowles values his Minnesota roots, and confesses to being a "massive Prince fan." He feels fortunate to have seen Prince over 100 times, often at late-night parties at his Chanhassen studio. In addition to his love for music, Rowles has "geeky" interests, such as Star Wars, Harry Potter, and the Marvel-verse. These interests recharge him for his day-to-day work, he says, as do his husband and three cats, who live with him in South Minneapolis.
Rowles' ongoing relationship with Augsburg began with some "post-secondary" classes during his senior year in high school. When he put his academic life on pause partway through his freshman year, he took some time to "experience life," before returning to complete his Bachelor's degree, and later, his Master's in Social Work. He has stayed in touch with various professors and with Auggies from his Master's cohort and has supervised a number of social work undergrads in internship roles. This trimester he is back on campus as a co-facilitator for an Intergroup Dialogue. He says that both of his social work experiences at Augsburg made a major impression on him, and he continues to be a cheerleader for the university and the social work program.
Perhaps Rowles' greatest contribution as a Minnesotan is yet to come, as he pursues his new work with DHS. In partnership with the Minnesota Department of Health, DHS is implementing a statewide strategy to end HIV in Minnesota. As Rowles says, "We have the tools to end this epidemic, and now is the time."
–by Cheryl Crockett '89