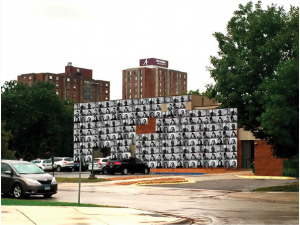 Augsburg Community: We need your help!
In 2019, Augsburg celebrates 150 years as a University. Our sesquicentennial will be a year-long opportunity to reflect on our past and present – to honor our leaders and legacies, and also to discover our roots.
As part of the Sesquicentennial celebration, Augsburg has commissioned several public art projects around campus lead by Kristin Anderson and Christopher Houltberg. The main installation is a participatory art project called "Inside Out" that will cover 4 city blocks and showcase over 1,869 faces of people part of the Augsburg community.
Let's celebrate the faces of current and historic members of the community with this ambitious public installation! Woven together, each black and white portrait will create a mesh of faces celebrating, recognizing and honoring the core of the institution: its people. This textile of woven portraits will be a unique opportunity to take part in an international art project empowering community actions.
Augsburg is everywhere.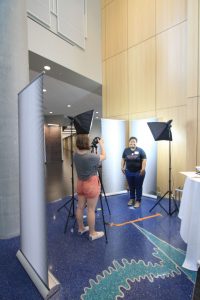 Having the whole Augsburg community represented in this installation is very important to us. That includes Rochester campus, weekend university students, international students, faculty, staff, and alumni. So we want to invite YOU to participate by sending in your photo from wherever you are through this form. The deadline to send in these photos is Friday, May 24.
Let's show who we are behind the walls of the institution and each of our roles within it for the past 150 years. Whether to pay tribute or simply pay attention, this project creates the opportunity to recognize how many shoulders it takes to create a strong and successful academic community in every single realm existing in a university.
Beyond getting your portrait taken or sending in a photo, this is about shared moments, pride, and seeing yourself appear side by side with around 3,000 other faces with the same pride and commitment to Augsburg.
Submit your photo