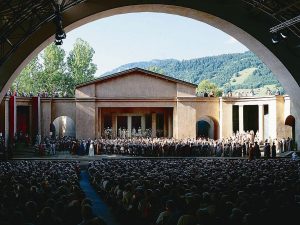 I've recently subscribed to the Oberammergau newsletter.
This might seem odd that a person living in Minneapolis, Minnesota would develop such an interest with a town of a little over 5,000 people located in the Bavarian Alps, but believe me, this place is truly fascinating.
2 years ago, I had the opportunity to travel with Augsburg to Germany/Lutherland and as a pastor's kid and grandchild of German immigrants, I left Germany with amazing experiences, new friends, and a deeper understanding of myself.
I'm downright giddy as I look toward traveling again in July 2020 with some of the same friends, to places I've never been before and to take advantage of the opportunity to experience the world-famous Oberammergau Passion Play.
I graduated from Augsburg with a Theater degree and all of my work previous to my time at Augsburg has been in theater. I met my husband when we were both on staff at the Guthrie Theater.
To me, the Oberammergau Passion Play is an ultimate theatrical event. It's impressive, unique, and moving…its like seeing Ibsen in Norway. Oh wait. That's another blog post.
Since subscribing to the newsletter, I've learned the following about this town-wide production:
When the cast list is announced, their names are PAINTED on a sign outside the theater.
On Ash Wednesday, the "-9 year" before the passion play, the BEARD DECREE goes into effect. Many of the men who have been cast in the play get their last haircut and shave.
Each performance has an audience of 4,700 people composed of theatergoers and pilgrims from all over the world.
Not only will we see the Passion Play, but we will be staying in Oberammergau. I heard that the hotel is close enough to the theater that at the intermission we can use the bathrooms in our own hotel. Also, rumor has it that one of the actors portraying Pontius Pilate is the proprietor of the hotel!
2,000 people are involved in the Passion Play each year. I remember feeling overwhelmed when I worked with a cast and crew of 75 members!
Augsburg is fortunate enough to have 40 tickets to a performance on July 23, 2020, and 20 of them are already spoken for. Once they are gone, we cannot get any more.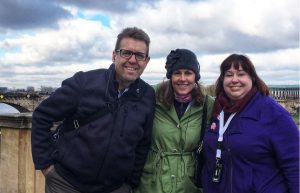 This trip to Germany as well as three trips to Norway, are truly uniquely Augsburg experiences. I would love to tell you more about this and all of our Sesquicentennial Heritage trips. Please look for subsequent blogs about the trips, check out the itineraries which can be found on the Alumni Travel Web Page, or feel free to reach out to me directly, I would love to chat with you about any of the trips codek@augsburg.edu or 612-330-1178.
Happy Travels!
Katie (Koch) Code '01
Director of Alumni and Constituent Relations