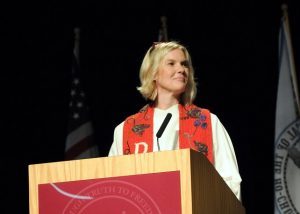 Careful travelers search the internet for maps, cruise over to AAA for their fancy brochures with highlighted directions, giving details on gas stations, food, rating campgrounds, and hotels. If you're a careful traveler, you probably clean out your refrigerator, dump the garbage, pay your bills, upload all travel apps—and complete this in good time before you depart.
And then there are the spontaneous types—the adventurous ones who prefer to hop in the car and take off out of town, buying licorice and chips and string cheese on the way, making no arrangements about where to lodge– and forgetting toothpaste.
We are pilgrims, those who will hike with me on the 2020 Norway Pilgrimage. Daniel Taylor writes, "What does it mean to say one is always on a pilgrimage? It means, among many things, that one must always be alert. The pilgrim is on the lookout for significance, for signs and rumors of transcendence . . . It means I must look for the holy within the mundane," (In Search of Sacred Places).
Join me and other pilgrims in this rare opportunity to hike with companions in some of the most gorgeous landscape in the world; we will traverse rivers, be awed by mountain ranges and woodsy paths, and finally set foot in Nidaros, the northernmost cathedral in Europe and our destination in Trondheim, Norway. Our route is the Gudbransdalen Path, which during the Middle Ages was the main road from Oslo to Nidaros (Trondheim).
No matter what kind of traveler you are, you will become a "pilgrim" and experience the holy ground of this route.  Your footsteps, at times challenging, will have the grounding of our travel company who provides expert planning and support, the friendship of other Auggie pilgrims, and the hospitality of our Norwegian hosts throughout the trip.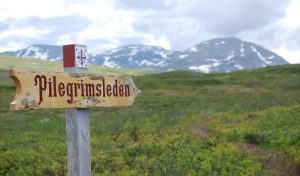 Two years ago, I led this pilgrimage and here is one participant's reflection:
Today's hike was absolutely breath-taking. No pun intended… And the beauty was objective. It was the type of beauty everyone can agree on, not to be portrayed by words or even pictures. I found myself wishing that my mom, dad or close friends could've been there too. How am I supposed to have this magic all to myself? When I return home (yuck), I'll try to share my experience in words, but again, it won't bring this experience justice – not even close.
We started the hike from Skaun Commune. This space has been popular among fellow hikers, or "pilgrims," that travel along Pilgrimslea. We followed the blue, "Pilgrimslea" sign up a large, paved road visible from the commune. Slowly, we made our way into the mountains. The trail started off as a leisure walk. The ground was solid and we were able to observe our surroundings as we moved along. This was easy! "Follow the orange, wooden stake, follow the orange, wooden stake." (That was my attempt at mimicking the "yellow brick road" bit from The Wizard of Oz, however, my version feels much more forced.)
The wooden stakes were marked with red-orange tips and a small marking we called a "squiggle." Yes, we're intellects. One of these sat on the outskirts of a heavily wooded area, and we had no choice but to accept it's invitation.
We made our way down the mountain, each turn instilling us with hope that our destination was near. Well, the trees were probably laughing at us. Towering above, they could see we wouldn't reach our bed and breakfast for another several hours. And to the trees, we said, "who's laughing now!" The group was relieved to find our new friend, John. For his presence signified the end of our 10-mile hike. John was the husband of Karen. John and Karen owned a bed and breakfast across the river from where we stood, and it looked promising. We followed John down to the river where we expected to board a ferry. But alas, the ferry we chalked up to be large and Victorian was a small, wooden, five-person boat just wider than a canoe. But at this point, our bodies were sore, knees weak and feet swollen to the point where chuckling was a natural reaction. All aboard!
Across the river, we entered our farmhouse sleeping quarters. Karen opened the green and white striped barn door. Inside, was a room constructed entirely of wooden beams. The dining room was extravagant, with chandeliers hanging about and candles lit up and down the tables. The building was taller than it was wide and with each set of stairs leading to a new level of charm. Trinkets played on every surface, and memories of the past draped the walls. If hobbits were to occupy this town, this would be the hobbit Castle. I don't think I've ever slept in a place so perfect.
Right now, I feel so lucky. I'm in Norway, which is across the world. The bed I'm laying in has been appreciated by so many before me, all with their own reason for sleeping here. That realization alone could set my mind wandering for hours! Each with their own interpretation of the pilgrimage and this gorgeous space that welcomed our desperate bodies. Although, I bet we could all agree on one thing. Today was beautiful.
---
Contact Katie (Koch) Code '01, Director of Alumni and Constituent Relations, at codek@augsburg.edu or 612-330-1178 if you are interested in learning more about Augsburg's travel opportunities or to be placed on a list to receive the most up to date information about the trips.