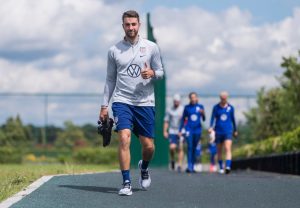 Tyler Heaps '13 has loved soccer since he was a boy, kicking a ball around the back yard with his older brother and three sisters. The memories don't get much better, however, than those made this summer, when his professional work in data analysis allowed him to be embedded with the U.S. Women's National Soccer Team as it competed for the World Cup in Lyon, France.
On July 7, all the hard work paid off when the U.S. team triumphed over the Netherlands, 2-0, winning its second consecutive World Cup championship. Heaps says playing a tiny part in helping the U.S. win the seven-game series—and the World Cup—was "one of the most challenging and rewarding experiences" of his life—and something he will never forget.
Not unlike football and baseball teams' use of video coverage and data analysis to enhance skills on the field, coaches and staff at U.S. Soccer are discovering the value of reviewing their own team's playing habits, as well as those of their opponents, through data collection, video, and studying trend lines. As Heaps says, "No one can recall every action that happened during a game (and especially not 10-15 games), so being able to apply objective data to identify key areas can help in preparation."
Heaps, who played soccer as an Augsburg student, is now manager of analytics and research for U.S. Soccer, where he oversees the initiatives of the organization to both analyze sports data and help staff scout potential talent. While he loves the excitement of the uncertainty, flow, and freedom of soccer, Heaps feels that the development of new technology—iPads on the bench, data availability, VAR (video assistant referee), etc.—makes for greater precision, helps referees make the correct decisions, and ultimately improves the game.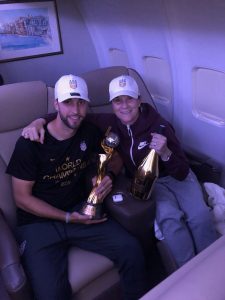 Jill Ellis, head coach of the U.S. Women's National Team, is one of the soccer coaches who has developed an appetite for this information and has worked to apply it and learn more from it. Ellis, who just announced her retirement from U.S. Soccer on July 30, is only the second coach (first female) to have led a soccer team to two consecutive World Cup championships (Pozzo—Italy, 1934, 1938).
Heaps feels very fortunate to have this opportunity to explore the sports analytics world, especially after having spent most of his time at Augsburg either on the soccer field or behind a computer or math book.
Prior to taking on his responsibilities with U.S. Soccer in 2016, Heaps worked in the human resources firm, Ceridian, where he fine-tuned his skills in programming and data management. During his off-hours, he coached soccer teams—an experience that he finds very helpful in creating relationships with the technical staffs at U.S. Soccer.
As with many college athletes, he continues to enjoy friendships forged on the Auggie soccer field—a great benefit that he credits to the leadership of head coach Greg Holker and his staff. He takes particular satisfaction in seeing the game continue to grow here in the U.S. What better way to see it generate excitement in the U.S. than a huge win in France?
—by Cheryl Crockett '89