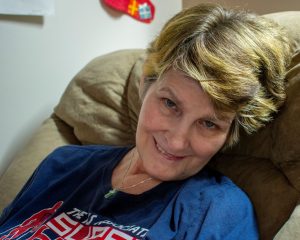 Augsburg alumna Maureen (Conroy) Kurtz '80 cultivated her life's calling at Augsburg through the intersection of English and theater.
Since graduating in 1980 with her bachelor's degree studying children's theatre, Maureen has written, directed, and produced over 80 plays and movies. She also served five years on the Bloomington Art Center Board and was involved with over 50 productions at the Bloomington Art Center, the Capri Theater, the Minnesota Jewish Theatre Company, and various other locations.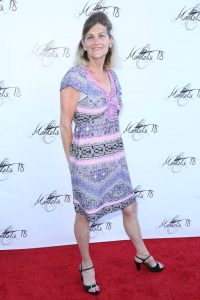 But Maureen hasn't only worked her magic behind the scenes; she's also spent a lot of time on the stage, going by the name Rina Kurtz. A highlight of her career was in 2014 when she had the opportunity to go to Hollywood and walk on the red carpet for the premiere of Matthew 18, in which she portrayed Miss Hillshire. She also acted in Thunderbird and The Coffee Shop Wars, along with a handful of short films and many plays.
A graduate of Mahtomedi High School, Maureen discovered her love of theater in her youth and worked on and off stage in her high school's theater productions. When she came to Augsburg in 1975, Maureen had the chance to work with two professors whom she credits as important mentors on her journey to what would become a full life in theater and film: English professor Toni Clark and legendary Theater professor Ailene Cole, who is recognized for her work building Augsburg's theater department into what it is today and for whom the Green Room in the Foss Center is named.
Ailene Cole played a special role in Maureen's career at Augsburg by creating a new major that was not only uniquely tailored to Maureen but was also the only one of its kind in the state at that time: Children's Theater.
"I loved Augsburg because Ailene Cole developed a special major for me in Children's Theater," says Maureen. "It was the only school to have a Children's Theater program." When asked what made her want to pursue that degree, Maureen said, "I love kids; it was my idea, and Ailene put together independent studies for me."
Maureen was busy while at Augsburg. She enjoyed Women's Literature, joined the gymnastics team, served on the English Board for one year, and formed a liturgical dance group. Maureen also studied abroad in London, where she was able to attend 28 plays, 6 of them Shakespeare plays. Her favorite production was Equus, a drama by Peter Shaffer about a psychiatrist who attempts to treat a boy with a pathological religious fascination with horses. It won the Tony Award for best play in 1975.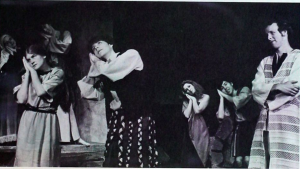 Maureen continued her love of theatrical work on and off stage for Augsburg productions. She directed Talk to Me Like The Rain and Let Me Listen, a Tennessee Williams short play, in 1978. Maureen also acted in the plays Abia Da Capo in 1976, Two by Two in 1977, and The Crucible in 1979. And with a smile, Maureen says she even made her own costumes.
When asked what something people would be surprised to learn about her, Maureen said, "I wrote a couple of puppetry productions." The productions were called Twink and Charlie Goes to Market. Both were put on at elementary schools. Maureen didn't plan on doing the puppet production herself, but a last-minute cancellation changed her plans. "I didn't want to be the puppeteer, but the guy [who was supposed to puppeteer] chickened out! I was nervous!"
Maureen says she is most proud of the 5 years she served on the Bloomington Art Center board, followed by 27 years acting on their stage while working on so many of their productions at the Black Box and Schneider Theaters. And she's raised two boys in between it all.
This past year, Maureen was diagnosed with ALS. It has greatly limited her mobility and requires her to communicate through text-to-speech computer software using Tobii, an eye-tracking device. She selects characters to form words by looking at them, then the computer speaks the words aloud.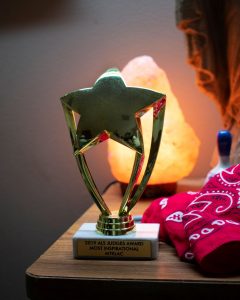 But this has not stifled her creative mind. Earlier this year, Maureen won a "Most Inspirational" award for her poem about ALS in a walk her sister completed in her honor in Missouri. She is also currently producing a movie, Christmas Slasher.
"I have a full life," Maureen says.
— By Jayne Carlson MFA '16 and Amanda Symes MFA '15
---
What Does ALS Stand For?
By Maureen Kurtz, 2019
A.L.S. is:
Acknowledging the Lord's Sacrifice
Always Listening to Silence
Ability to Laugh at Self
Accepting Life's Setbacks
Adoring every Little Second
Awestruck by the Light of the Stars
Adhering to the Lessons of the Soul
Appreciating the Luxury of the Sun
Avoiding Lucifer's Sin
Adoring the Land and the Sea
Awareness of Life's Seasons
Allowing for Love to Soar
Assuring that you are the Lord's Servant
Attaining the Loyalty to the Senses
Aiming for Loving Service
Admitting to the Lord you have Sinned
Always Learning Something
Accepting Loss and Spoil
Another Likely Story
Apples Lemons Spinach
Acorns Lakes Streams
Art Leisure Singing
Acceptance of Loss and Self Control
Oh yea, and I almost forgot. A.L.S. stands for amyotrophic lateral sclerosis- but that is only in VERY RARE CASES. Let me tell you A.L.S. stands for so much more. Be sure to read between the lines. It goes to show:
You are Always Learning Something.