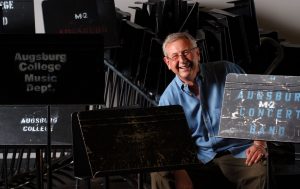 Ever since Bob Stacke '71 started classes at Augsburg, he has been a strong influence on its music—first as a student, then later as professor and director of the band and numerous ensembles. And since his retirement in 2014, the Music Department Chair Emeritus continues to make his mark.
With a passion for exploring international music and finding ways to fuse dissimilar styles, he has performed jazz and interesting new music in a surprisingly wide variety of venues. But beyond that performing experience, as band director and professor he has provided hundreds of Auggie students with growth opportunities that draw them into an expanded world of music and enable them to discover the joy of creating and performing their own compositions and styles.
Former music composition student Brendan Anderson '02 found a mentor in Stacke and has said that Stacke's early advice—to "say yes"—opened up his Augsburg studies and career in ways that he would never have envisioned in earlier years. Rather than focusing on one aspect or style of music, which may or may not be useful in a career, Anderson found that being willing to say yes—getting outside one's comfort zone and practicing a lot—could expand opportunities dramatically, both musically and in life in general.
The wisdom of this philosophy became real to Anderson after graduating from Augsburg and settling in Los Angeles to pursue his childhood dream of being a film composer. It was all going splendidly and his goal within reach, when a new awareness of many other possibilities took hold. Now he serves as associate pastor of worship and communication at Highlands Church, a large interdenominational church in Scottsdale, Ariz. In his "free time," he freelances in mixed media and video production for local nonprofits. He also has worked with Stacke on Augsburg Sesquicentennial music. And he is loving it all.
Student-led Initiative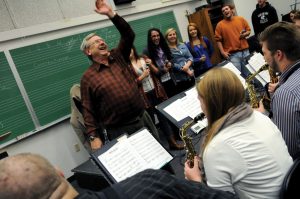 Stacke first arrived on campus as a student in the turbulent 60s, when music gave full-throated expression to differing viewpoints on issues of the day—politics, faith, women's rights, race, and human rights. On campus, he found a number of students who, like him, loved traditional music but were also interested in expanding Augsburg's performances to include jazz and contemporary music.
With the blessing of the music faculty, several of these students formed a group, running it by themselves and practicing regularly in a music room. Uniquely, they used unusual progressive instrumentation, adding French horn and tuba to the traditional jazz band, and calling themselves the Neophonic Brass. Later, they added vocalists—the Cabaret Singers—which included current music professor, Merilee Klemp '75.
With gratitude, Stacke remembers mentors such as former band director Mayo Savold, who encouraged the students to develop their own musical style, and percussion teachers Elliott Fine and Marv Dahlgren. When Stacke would lament, "I just can't get this part," Dahlgren would respond, "Then you just haven't practiced enough!" These Augsburg experiences and living in the 60s formed how Stacke presents music today.
Even at an early age, he performed a wide variety of music with numerous show and jazz groups. He was part of the Skeets Trio, teaming up with accordion player and Augsburg alumnus Skeets Langley '64 (who won the world accordion championship) and tuba player Stan Freese (who became the head of Disney Park music). Perhaps Stacke's biggest thrill during his student years was playing as an extra percussionist for the Minneapolis Symphony Orchestra.
Though Stacke knew early on that his career would be in music, he wasn't clear on the details. Teaching or performing? But with time, and after observing Freese's teaching style at Edison High School in Minneapolis and working with the percussion students there, Stacke decided to look seriously at a teaching career.
In the 70s and 80s, he taught music at local schools (junior high and high school) and at the University of St. Cloud, while continuing to perform in several venues, like the Chanhassen Dinner Theater, where he played in the band for 13 years.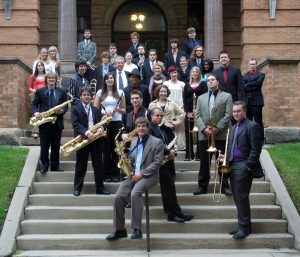 In 1990 Stacke returned to Augsburg, this time as faculty, and in 1998 he was named chair of the Music Department. He also served as director of the Augsburg Band, as well as the Jazz Instrumental and Vocalist Ensembles (JIVE). To his delight, the appointment enabled him to re-energize the Jazz Band that he and his classmates had started years earlier.
Former student and mentee Dave Kerkvliet '95, who has been director of bands at Sebeka, Minnesota, for 24 years is—like Stacke—a drummer. Forever grateful for what his mentor did for him, he believes in using the same, most effective, tool to mentor his own students that Stacke did—"encourage your students (never discourage), and provide opportunities to showcase their talents." Kerkvliet and some of his Sebeka band members recently enjoyed a backstage give-and-take with members of the well-known rock band, 311.
Another former student, clarinetist Lauren Lesser '12 of St. Louis Park, Minnesota, knew when she came to Augsburg that she didn't want to major in music but definitely wanted to continue playing in a band, which she had done since the fifth grade. Stacke made that possible, and she never felt any less a part of the band than the music majors playing alongside her. She has said that, though Stacke expected a lot from his band members, he was able to make everyday things fun. "Bob always made sure there was plenty of time for exploration—both educational and just fun—mixed into the practices and performances," she said.
Though Stacke acknowledges that the music faculty had more than a few animated discussions about what constitutes a music education, there was never any doubt they shared the same goal—to give the students the best education possible. They expanded the curriculum greatly and built individual skills by taking into account each student's talents and individuality—and also strove to develop in all students a lifelong love and appreciation of all musical styles.
Music under Stacke's tutelage has delighted many over the years, exemplified at several Augsburg commencement ceremonies, when Auggie instrumentalists and vocalists have delivered a fulsome jazz performance of the traditional spiritual song, "This Little Light of Mine." These renditions have brought listeners to tears with their tender power.
International Influence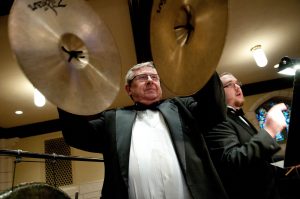 While Stacke was a student at Augsburg, music from other cultures was becoming a popular genre. He and his friends would listen to the Beatles collaborating with Indian musicians and jazz musicians such as Don Ellis and Buddy Rich using the rhythms of India and Eastern European countries. The world of music exploded for him in its use of rhythm.
When asked what had made him curious about such a variety of genres, he responded with one word—rhythm. He wanted to go beyond the more conventional time signatures and phrasing, and found inspiration in the words of his former teacher, the late Lee Sateren, who said, "Don't be confined by the tyranny of the bar line."
What continues to excite Stacke about two dissimilar musical genres "bumping up" against each other is the remarkable blending that can result. He recalls Gunther Schuller of the New England Conservatory of Music, who created a new genre he called Third Stream. It was an incredible blending of "classical" and jazz/contemporary music, Stacke says. As college students, he and his friends were extremely interested in it. Augsburg students of the 60s—such as John Eidsvoog, Greg Lewis, and Ellis Holcomb, who wrote original compositions and arrangements for the Neophonic brass—were highly influenced by Third Stream.
A survey of Stacke's musical travels (Ireland, Turkey, Haiti, China, Jamaica, Mexico, Nicaragua, Venezuela, and Europe) is indicative of the degree to which he has lived by his own advice—to say yes to learning and embracing new styles.
Ever the Collaborator
Over the years, Stacke has collaborated with a wide variety of organizations to create unique performances. He has worked with musical artists in the Somali neighborhood near campus and directed a group called Midnimo (Somali word for "unity"). Since 2001, he has volunteered every summer at a children's music camp in Haiti. In 2008, he recruited a big-band-style orchestra (including professional, college, and high school musicians) to present "Students Play in Witness to Duke Ellington." With collaboration from several Twin Cities high school band directors and the Walker West Music Academy, he assembled a band of high schoolers, and added jazz ensemble members and a couple of professional musicians as mentors, in order to produce the Ellington special.
In the fall of 2013, he developed an alumni jazz band, fondly known as Bob's Band. He continues to direct the group, which specializes in performing a fusion of jazz and world music. In 2016, Stacke was awarded the Spirit of Augsburg Award. See footage of the award ceremony here.
When he isn't doing music, Stacke is enjoying another passion—photography. Find more at finalshutterphotography.com. He and his wife Mary live in Spring Park, Minnesota, with their border collie Rainy, and have two children, Ben and Sarah, and four grandchildren.
—by Cheryl Crockett '89