Augsburg Physics Major and Summer Researcher, Noah Aleshire, has been hard at work conducting investigations into the science of 3D printing food. After seeing a number of intriguing Twitter posts from Physics Professor, Ben Stottrup, I asked Noah to provide some information about himself and his work for the new Arts and Sciences blog. 
The photos included all came from Professor Stottrup's posts.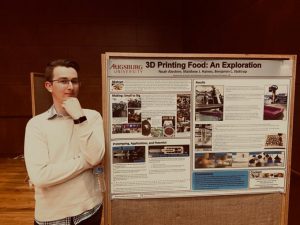 What made you want to research 3D printing food?
"I think this project stemmed from (Professor) Stottrup's interest in food science and my interests in mechanical engineering. I expressed interest in using 3D printing to help me explore high-powered rocketry for my aerospace club, which sparked the idea of blending our interests and attempting to 3D print food. This would allow me to explore 3D printing while also helping advance Augsburg's exploration of food science. Not to mention, broadening the "making" community by introducing the capability of printing various types of food pastes (frosting, chocolate, mashed potatoes, etc.). Having a printer that can print food will undoubtedly draw more students towards "making" and to food science. We also are thinking of collaborating with Campus Kitchen to host a few events that utilize/showcase our ability to print food by potentially printing designs on cakes or just designs that could be cooled and then placed onto a cake.
"The printers we got came as a DIY kit, so I spent over a week building and learning the intricate components. This allowed me to modify our printer, as needed, and design different methods of paste extrusion (I show my two major designs in the poster). Now having built a 3D printer (I also own one at home), I am currently building a CNC router for the shop downstairs.
How was your research funded?
"My work was funded by the generous donations of Dean and Amy Sundquist through Augsburg's Department of Undergraduate Research and Graduate Opportunities, while also funded by NASA's Space Grant." 
More About Noah:
He is President of Augsburg's Society of Physics Students (Spring 2018 – Spring 2020) and President of Augsburg's Unofficial Aerospace Club (a student-run subset of the Society of Physics Students).

He has a Level 1 High-Powered Rocketry certification through Tripoli, MN Rocketry Association (he can build and launch rockets of a certain class that generally go under 5,000 ft) and plans to go for Level 2 this school year (generally under 10,0000 ft).

This will be his senior year at Augsburg. He will graduate in 2020 with a Bachelor of Science in Physics and a Minor in Mathematics.

He is applying for PhD programs in Aerospace Engineering this fall; PhD in Mechanical Engineering is his second consideration.