This blog entry was contributed by Dr. Leon van Eck, Assistant Professor of Biology and Hagfors Greenhouse Curator.
---
The Augsburg University Greenhouse is located on the 4th floor of the Hagfors Center. It is a little over 500 square feet in size, but is packed with sophisticated technology. The climate is computer-controlled through an Argus Control System, which allows for automatic control of the lighting, the heating and cooling systems, and the shade curtain. The only thing we don't control automatically is the watering, and that's because of the diverse needs of our growing plant collection. Over the past year as Assistant Professor and Hagfors Greenhouse Curator, I have collected together over 250 different plant species to support research and teaching activities in the Biology Department. These plants span the gamut, from delicate mosses and ferns, tropical vines and orchids, carnivorous plants, to food plants not typically seen in Minnesota, like pineapple and papaya. Students enrolled in BIO361 Plant Biology get the opportunity to get up close with these plants and flex their botany skills. A highlight this semester has been the flowering of the voodoo lily (Amorphophallus konjac), a slightly smaller (and even smellier!) relative of the infamous titan arum.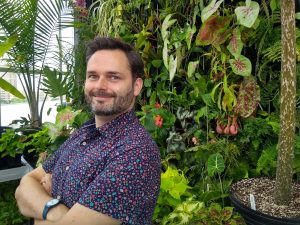 Our plant collection focuses on crop wild relatives, those species of plants that are closely related to familiar plants like tomato and barley, but that harbor useful traits such as resistance to drought and disease not found in the commercial cultivars. These plants are of particular interest as we think ahead to sustainably feeding a growing population in the face of climate change. Another focus of our collection is the biodiversity of the Horn of Africa. Since Augsburg University is in the heart of a vibrant Northeast African community, we are well-positioned to showcase the amazing, important, and threatened plants from that part of the world. This includes some striking succulent species, as well as plants like frankincense and myrrh, specimens of which are currently thriving on the rooftop of the Hagfors Center.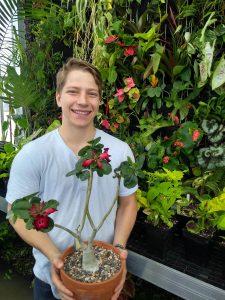 The greenhouse has recently obtained a vertical gardening system, which we installed and planted up over the summer, to have a lush green wall and even more opportunities to get students excited about plants. This wall features many cliff-dwelling species, including an impressive collection of rainforest cacti.
The Plant Growth Facilities at Augsburg not only house the Biology Department's permanent plant collections, but are also a place of active science. Students conduct original URGO-sponsored research on trichome density and the microbiomes of Minnesota-native wild strawberries, study the disease resistance genomics of barley, and conduct experiments on plant community interactions for BIO481 Ecology. There are many opportunities for students to gain hands-on experience in the plant sciences, right here in the Hagfors Center!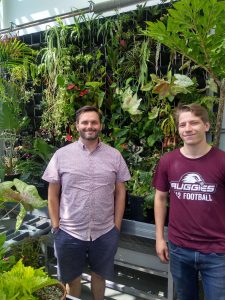 My current favorite plant in our collection? A spiny succulent called Edithcolea grandis, which produces large flowers patterned like a Persian carpet. This exotic relative of the humble milkweed is named after the intrepid female botanist Edith Cole, who collected it in the mountains of northern Somalia in 1895. It is these kinds of evocative stories that can really bring the world of botany alive in people's imaginations, and help me in my mission to show people how fascinating and important the plant kingdom can be.
If you'd like to know what we've got "growing on", and see the plant collection in person, the doors of the Hagfors Greenhouse are open to the Augsburg community on the last Friday of every month for Final Friday Flower Hour. Greenhouse staff will be available to showcase our plant collections and research projects from noon to 2PM. I hope you'll discover a new favorite species. 
– Dr. Leon van Eck,
Assistant Professor, Biology Department
Hagfors Greenhouse Curator