Emma Gustafson, a current Augsburg senior in the Theater Department, has spent the last two summers in the internship of her dreams: designing and creating wigs for the Santa Fe Opera in New Mexico. A competitive internship for young theatre designers and technicians, this opportunity was a once in a lifetime experience for Emma. I asked her to share her thoughts on this incredible step into the real world of theatre. 
Photos pictured here and more can be found on Emma's Instagram.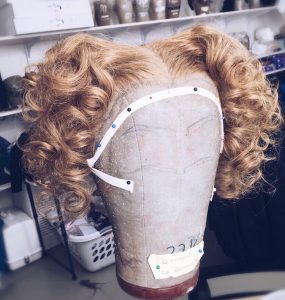 Could you describe a typical day at the Santa Fe Opera?
"Days are long at the Santa Fe Opera– 6 days a week, sometimes 12 hour days, but every minute is worth it! You get to work full time doing what you love and your opportunity for growth is immeasurable! It's like bootcamp for your craft, but in the beautiful high-desert and with an on-campus pool.
"As a Wigs Apprentice, I spent my days building, coloring, cutting, and styling wigs, facial hair, and other hair pieces. The nights were spent running shows–each night is a different opera and there are always 5 in rotation for the entire summer! While running a show, I would be responsible for putting wigs and makeup on singers and assisting with backstage changes or quick changes."

What was your biggest takeaway from the experience?
"My biggest takeaway was simply the craft itself, the Santa Fe Opera gave me the opportunity to work with some of the best-of-the-best in such a niche industry."
What are some ways that the Augsburg Theater department prepared you for this internship?
"Having amazing mentors and teachers such as Sarah Bahr, who helped me find and land this job, and Michael Burden who encouraged me to work professionally and me taught about the stagecraft of theater, I was able to go into SFO (nervous, yes, but) confident enough with background knowledge to engage with a professional and prestigious company."
More about Emma:
As a Theater Design and Technical major and Graphic Design minor in the Class of 2020, Emma plans to begin working in the theater industry in the area of Hair, Makeup and Wigs as a designer, run-crew, and wig builder after graduation. She is also the student director in Augsburg's 2019-2020 season; she will be directing "Quake" by Melanie Marnich–to be performed in January/February 2020!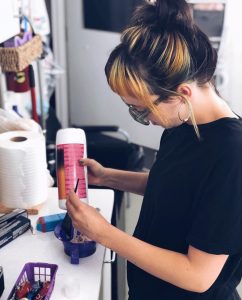 This post was written and contributed by Jenny Moeller, Administrative Assistant to the Art, Communication Arts, and Theater Departments. Thanks, Jenny and Emma!