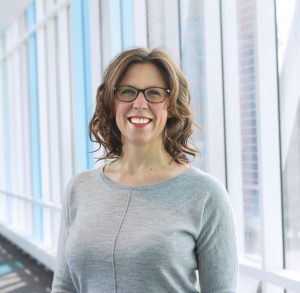 Prior to joining Augsburg's Riverside Innovation Hub, I spent 15 years working and serving as a social worker, youth director, and community networker in the places where congregations and their greater communities intersect. Several years ago when my oldest was 5, I asked him if he knew what my job was. "Yeah Mom, you work for love. That's what the church does."
To have anyone – let alone a 5 year old! – name the calling they see in you is a beautiful and transformative thing. Needless to say, his words continue to hold a central place in my heart and affirm my belief in the importance of the work I get to be a part of with the Riverside Innovation Hub. This work allows us to accompany both young adults and congregations discerning what working for love looks like in their callings, contexts and relationships.
At a time when uncertainties, fears and brokenness dominate the headlines, our communities and even our own lives, working for love is a much needed response. Following this call and discerning what this love must look like in the communities and contexts where we live, serve, work, worship and play is not intended to be done alone. WE NEED EACH OTHER.
We listen better together.
We learn better together.
We problem solve better together.
We respond better together.
We LOVE better together.
I have heard enough stories that lead me to believe that young adults GET this and WANT this and some in fact are DOING this in impactful ways and surprising places. I am grateful to be a part of an effort that invites their voices, experiences and questions into the conversation with a Church that is called to work for love in new and often challenging times and places.
The Spirit is at work. I pray we are open to the relationships, places and stories that allow us to join in what God is already most certainly up to – working for love in our broken and beautiful world.